Spin Master Corp (TOY) Given Average Rating of "Buy" by Analysts
Shares of Spin Master Corp (TSE:TOY) have received a consensus recommendation of "Buy" from the eight brokerages that are presently covering the company, Marketbeat reports. One analyst has rated the stock with a hold recommendation and five have issued a buy recommendation on the company. The average 1 year target price among analysts that have covered the stock in the last year is C$52.75.
A number of equities analysts recently weighed in on TOY shares. National Bank Financial increased their price target on Spin Master from C$50.00 to C$58.00 and gave the company an "outperform" rating in a research report on Wednesday, October 18th. TD Securities lowered Spin Master from an "action list buy" rating to a "buy" rating and increased their price target for the company from C$54.00 to C$55.00 in a research report on Wednesday, November 8th. Finally, Raymond James Financial increased their price target on Spin Master from C$52.00 to C$55.00 in a research report on Wednesday, November 1st.
Spin Master (TSE:TOY) traded up C$0.34 during trading hours on Tuesday, reaching C$52.64. The company had a trading volume of 21,319 shares, compared to its average volume of 65,632. The firm has a market capitalization of $1,470.00 and a price-to-earnings ratio of 29.24. Spin Master has a 1 year low of C$30.01 and a 1 year high of C$54.54.
In other Spin Master news, insider Chris Harrs sold 23,000 shares of the firm's stock in a transaction dated Friday, September 29th. The stock was sold at an average price of C$47.77, for a total transaction of C$1,098,710.00.
ILLEGAL ACTIVITY NOTICE: This report was originally posted by American Banking News and is owned by of American Banking News. If you are accessing this report on another website, it was illegally copied and reposted in violation of United States & international copyright and trademark law. The legal version of this report can be read at https://www.americanbankingnews.com/2017/12/26/spin-master-corp-toy-given-average-rating-of-buy-by-analysts.html.
About Spin Master
Spin Master Corp., a children's entertainment company, creates, designs, manufactures, and markets various toys, games, products, and entertainment properties in North America, Europe, and internationally. It operates through five segments: Activities, Games & Puzzles and Fun Furniture; Remote Control and Interactive Characters; Boys Action and High-Tech Construction; Pre-School and Girls; and Outdoor.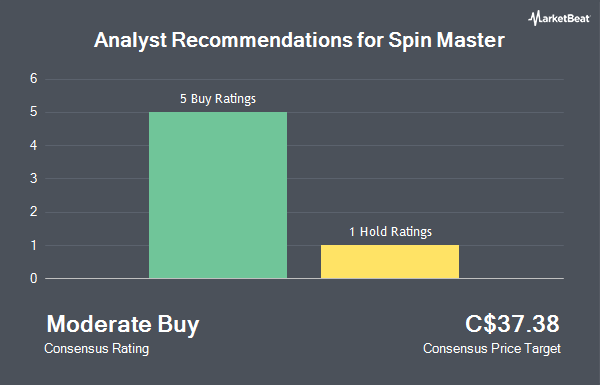 Receive News & Ratings for Spin Master Daily - Enter your email address below to receive a concise daily summary of the latest news and analysts' ratings for Spin Master and related companies with MarketBeat.com's FREE daily email newsletter.