Air T, Inc. (NASDAQ:AIRT) Director Gary S. Kohler sold 51,827 shares of the stock in a transaction that occurred on Wednesday, December 27th. The shares were sold at an average price of $24.75, for a total transaction of $1,282,718.25. The sale was disclosed in a legal filing with the Securities & Exchange Commission, which is available through this hyperlink.
Shares of Air T, Inc. (NASDAQ AIRT) traded up $0.65 during trading hours on Thursday, hitting $23.75. 220 shares of the company's stock were exchanged, compared to its average volume of 2,220. Air T, Inc. has a 52 week low of $14.40 and a 52 week high of $25.00. The company has a debt-to-equity ratio of 0.87, a quick ratio of 1.26 and a current ratio of 2.06. The stock has a market cap of $47.09, a P/E ratio of 17.09 and a beta of 1.01.
Air T (NASDAQ:AIRT) last announced its quarterly earnings data on Tuesday, November 14th. The transportation company reported $0.21 EPS for the quarter. Air T had a net margin of 1.41% and a return on equity of 10.93%. The company had revenue of $48.86 million for the quarter.
ILLEGAL ACTIVITY WARNING: This piece of content was posted by American Banking News and is the sole property of of American Banking News. If you are viewing this piece of content on another publication, it was stolen and republished in violation of US & international copyright & trademark law. The original version of this piece of content can be viewed at https://www.americanbankingnews.com/2017/12/28/gary-s-kohler-sells-51827-shares-of-air-t-inc-airt-stock.html.
Air T Company Profile
Air T, Inc is a holding company. The Company operates through five segments: overnight air cargo, ground equipment sales, ground support services, printing equipment and maintenance, and leasing. The company's overnight air cargo segment operates in the air express delivery services industry. The ground equipment sales segment manufactures and provides mobile deicers and other specialized equipment products to passenger and cargo airlines, airports, the United States military and industrial customers.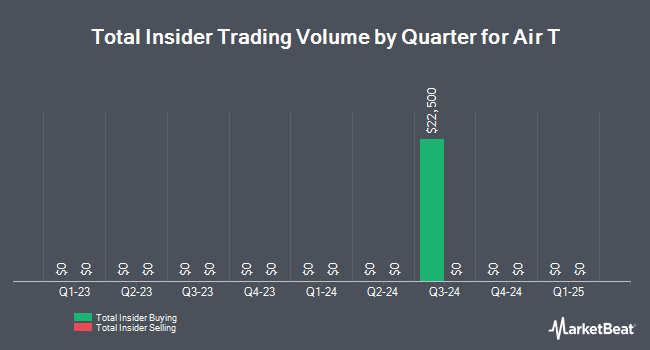 Receive News & Ratings for Air T Daily - Enter your email address below to receive a concise daily summary of the latest news and analysts' ratings for Air T and related companies with MarketBeat.com's FREE daily email newsletter.