Easyjet (OTCMKTS:ESYJY) was upgraded by equities research analysts at Bank of America from an "underperform" rating to a "neutral" rating in a research report issued to clients and investors on Tuesday, Marketbeat reports.
Several other analysts also recently issued reports on ESYJY. Kepler Capital Markets raised Easyjet from a "hold" rating to a "buy" rating in a report on Tuesday, November 28th. JPMorgan Chase & Co. raised Easyjet from an "underweight" rating to an "overweight" rating in a report on Wednesday, December 6th. Finally, Societe Generale raised Easyjet from a "sell" rating to a "hold" rating in a report on Tuesday, November 28th. One investment analyst has rated the stock with a sell rating, five have given a hold rating and four have issued a buy rating to the company's stock. Easyjet currently has an average rating of "Hold".
Easyjet (OTCMKTS:ESYJY) traded up $1.13 during trading hours on Tuesday, reaching $20.69. The company's stock had a trading volume of 3,455 shares, compared to its average volume of 3,327. Easyjet has a 52 week low of $16.44 and a 52 week high of $75.50.
COPYRIGHT VIOLATION WARNING: This article was first reported by American Banking News and is the property of of American Banking News. If you are accessing this article on another domain, it was illegally copied and reposted in violation of U.S. & international copyright & trademark law. The legal version of this article can be viewed at https://www.americanbankingnews.com/2018/01/02/easyjet-esyjy-lifted-to-neutral-at-bank-of-america.html.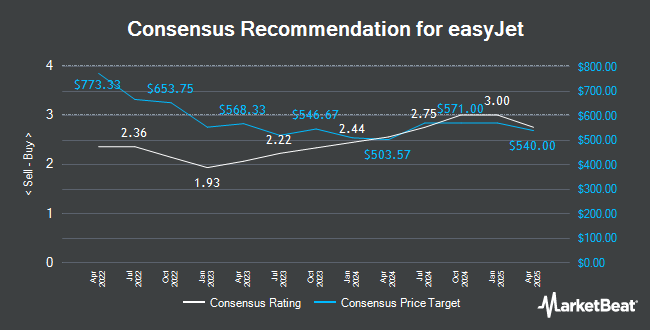 Receive News & Ratings for Easyjet Daily - Enter your email address below to receive a concise daily summary of the latest news and analysts' ratings for Easyjet and related companies with MarketBeat.com's FREE daily email newsletter.