Shawcor Ltd (TSE:SCL) has earned a consensus rating of "Buy" from the seven ratings firms that are covering the firm, MarketBeat reports. Three equities research analysts have rated the stock with a hold rating, one has issued a buy rating and one has assigned a strong buy rating to the company. The average 1 year price target among brokers that have updated their coverage on the stock in the last year is C$36.00.
A number of equities research analysts have issued reports on the stock. TD Securities set a C$33.00 price objective on shares of Shawcor and gave the company a "buy" rating in a report on Saturday, September 23rd. National Bank Financial raised shares of Shawcor from a "sector perform" rating to an "outperform" rating and increased their price objective for the company from C$27.00 to C$35.00 in a report on Wednesday, October 11th. Finally, Scotiabank raised shares of Shawcor from an "underperform" rating to a "sector perform" rating and set a C$32.00 price objective for the company in a report on Tuesday, November 14th.
In other Shawcor news, insider Gaston Alfonso Tano bought 4,000 shares of the firm's stock in a transaction dated Monday, November 20th. The stock was acquired at an average cost of C$26.52 per share, for a total transaction of C$106,080.00. Also, insider Paul Anthony Pierroz sold 900 shares of Shawcor stock in a transaction on Monday, December 4th. The stock was sold at an average price of C$27.92, for a total value of C$25,128.00. Over the last 90 days, insiders purchased 5,114 shares of company stock valued at $129,509.
Shares of Shawcor (
TSE SCL
) opened at C$27.55 on Wednesday. Shawcor has a fifty-two week low of C$24.20 and a fifty-two week high of C$39.95. The stock has a market cap of $1,930.00, a P/E ratio of 23.75 and a beta of 0.64.
TRADEMARK VIOLATION NOTICE: "Shawcor Ltd (SCL) Receives Average Recommendation of "Buy" from Analysts" was originally reported by American Banking News and is owned by of American Banking News. If you are reading this story on another website, it was illegally copied and republished in violation of US and international trademark & copyright legislation. The correct version of this story can be read at https://www.americanbankingnews.com/2018/01/03/shawcor-ltd-scl-receives-average-recommendation-of-buy-from-analysts.html.
About Shawcor
Shawcor Ltd is a Canada-based energy services company. The Company is engaged in designing, engineering, marketing and selling products and services, such as pipe coating services; flexible composite pipe; onshore and offshore pipeline corrosion and thermal protection; ultrasonic and radiographic inspection services; tubular management services; heat-shrinkable polymer tubing, and control and instrumentation wire and cable.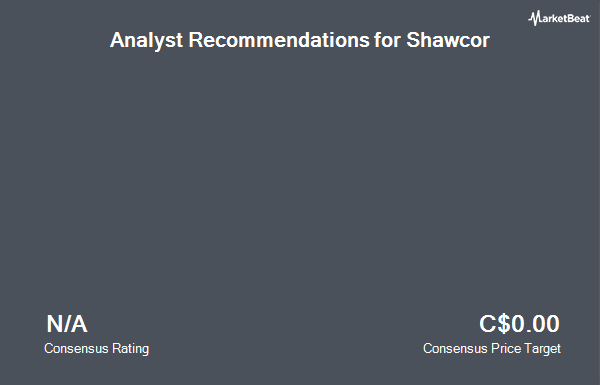 Receive News & Ratings for Shawcor Daily - Enter your email address below to receive a concise daily summary of the latest news and analysts' ratings for Shawcor and related companies with MarketBeat.com's FREE daily email newsletter.