Shaw Communications (NYSE:SJR) (TSE:SJR.B) will be releasing its earnings data before the market opens on Thursday, January 11th. Analysts expect Shaw Communications to post earnings of $0.24 per share for the quarter.
Shares of Shaw Communications (SJR) opened at $22.84 on Thursday. Shaw Communications has a twelve month low of $20.13 and a twelve month high of $23.44. The firm has a market cap of $11,470.00, a PE ratio of 25.66, a P/E/G ratio of 4.48 and a beta of 0.96. The company has a current ratio of 0.80, a quick ratio of 0.72 and a debt-to-equity ratio of 0.70.
The business also recently disclosed a monthly dividend, which will be paid on Tuesday, February 27th. Investors of record on Thursday, February 15th will be issued a dividend of $0.0781 per share. The ex-dividend date of this dividend is Wednesday, February 14th. This represents a $0.94 dividend on an annualized basis and a yield of 4.10%. Shaw Communications's payout ratio is 105.62%.
A number of brokerages recently weighed in on SJR.
Zacks Investment Research
lowered shares of Shaw Communications from a "buy" rating to a "hold" rating in a report on Tuesday, October 10th. Bank of America reissued a "neutral" rating and set a $32.00 target price on shares of Shaw Communications in a research report on Tuesday, December 5th. Scotiabank downgraded shares of Shaw Communications from an "outperform" rating to a "sector perform" rating in a research report on Thursday, October 12th. TheStreet raised shares of Shaw Communications from a "c" rating to a "b-" rating in a research report on Monday, October 30th. Finally, Barclays raised their target price on shares of Shaw Communications from $21.00 to $22.00 and gave the company an "equal weight" rating in a research report on Friday, October 27th. Two analysts have rated the stock with a sell rating, five have assigned a hold rating and one has assigned a buy rating to the company's stock. The stock presently has an average rating of "Hold" and an average target price of $27.40.
WARNING: "Shaw Communications (SJR) to Release Earnings on Thursday" was reported by American Banking News and is owned by of American Banking News. If you are viewing this news story on another publication, it was stolen and republished in violation of United States and international trademark and copyright legislation. The correct version of this news story can be viewed at https://www.americanbankingnews.com/2018/01/04/shaw-communications-sjr-to-release-earnings-on-thursday.html.
About Shaw Communications
Shaw Communications Inc (Shaw) is a diversified connectivity provider. The Company operates through four divisions: Consumer, Wireless, Business Network Services and Business Infrastructure Services. Under the Consumer division, the Company offers Cable telecommunications and Satellite video services to residential customers.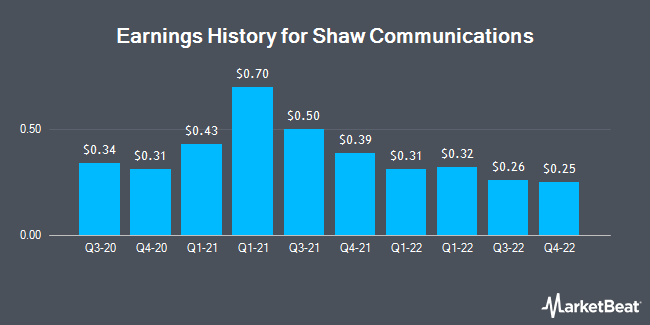 Receive News & Ratings for Shaw Communications Daily - Enter your email address below to receive a concise daily summary of the latest news and analysts' ratings for Shaw Communications and related companies with MarketBeat.com's FREE daily email newsletter.