Shares of Verona Pharma Plc (LON:VRP) have been assigned a consensus recommendation of "Buy" from the six analysts that are presently covering the company, MarketBeat Ratings reports. Six analysts have rated the stock with a buy recommendation. The average 12-month price target among brokers that have issued a report on the stock in the last year is GBX 130 ($1.74).
Several equities research analysts recently issued reports on VRP shares. N+1 Singer reiterated a "buy" rating on shares of Verona Pharma in a report on Tuesday, November 7th. Jefferies Group reiterated a "buy" rating and set a GBX 250 ($3.34) price target on shares of Verona Pharma in a report on Wednesday, November 8th. Finally, reiterated a "buy" rating on shares of Verona Pharma in a report on Tuesday, November 7th.
Shares of Verona Pharma (VRP) opened at GBX 111.85 ($1.50) on Thursday. Verona Pharma has a fifty-two week low of GBX 100 ($1.34) and a fifty-two week high of GBX 189 ($2.53).
In related news, insider David Ebsworth purchased 10,000 shares of the firm's stock in a transaction that occurred on Wednesday, November 29th. The stock was acquired at an average price of GBX 107 ($1.43) per share, for a total transaction of £10,700 ($14,306.73).
COPYRIGHT VIOLATION WARNING: This piece was reported by American Banking News and is the property of of American Banking News. If you are reading this piece on another domain, it was illegally copied and republished in violation of US and international copyright and trademark legislation. The correct version of this piece can be read at https://www.americanbankingnews.com/2018/01/04/verona-pharma-plc-vrp-receives-consensus-rating-of-buy-from-analysts-2.html.
About Verona Pharma
Verona Pharma plc is a United Kingdom-based clinical-stage biopharmaceutical company. The principal activity of the Company is the development of drugs for the treatment of chronic respiratory diseases, such as chronic obstructive pulmonary disease (COPD), asthma and cystic fibrosis. The Company's product candidate, RPL554, is a dual inhibitor of the enzymes phosphodiesterase 3 and 4 (PDE3 and PDE4) that acts as both a bronchodilator and an anti-inflammatory agent in a single compound.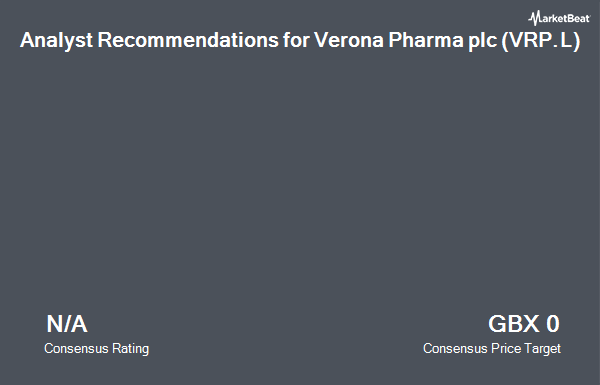 Receive News & Ratings for Verona Pharma Daily - Enter your email address below to receive a concise daily summary of the latest news and analysts' ratings for Verona Pharma and related companies with MarketBeat.com's FREE daily email newsletter.