Zacks Investment Research Upgrades Air France KLM (AFLYY) to Buy
Air France KLM (OTCMKTS:AFLYY) was upgraded by Zacks Investment Research from a "hold" rating to a "buy" rating in a research report issued to clients and investors on Thursday. The brokerage presently has a $19.00 target price on the transportation company's stock. Zacks Investment Research's price target points to a potential upside of 12.76% from the company's previous close.
According to Zacks, "AIR FRANCE-KLM is an airline company. The Company's core business is passenger transport, cargo transport, and aircraft maintenance services. The Group is the world leader in terms of international passenger traffic; and its cargo activity (not including integrators) and is one of the world's major maintenance service providers. The Group structure is simple: a holding company with two airline subsidiaries. Air France-KLM has established a set of clearly defined commitments to ensure that its strategy of profitable growth goes hand in hand with environmental quality and social progress. "
Several other brokerages have also commented on AFLYY. Deutsche Bank raised Air France KLM from a "sell" rating to a "hold" rating in a report on Friday, December 1st. JPMorgan Chase & Co. raised Air France KLM from an "underweight" rating to a "hold" rating in a report on Monday, November 20th. UBS Group reissued a "buy" rating on shares of Air France KLM in a report on Monday, September 11th. Finally, ValuEngine lowered Air France KLM from a "buy" rating to a "hold" rating in a report on Friday, September 15th. One analyst has rated the stock with a sell rating, four have issued a hold rating, five have given a buy rating and one has assigned a strong buy rating to the company. The stock has a consensus rating of "Buy" and an average price target of $19.00.
Shares of Air France KLM (
AFLYY
) traded down $0.33 during midday trading on Thursday, hitting $16.85. The stock had a trading volume of 54,870 shares, compared to its average volume of 22,901. Air France KLM has a 52 week low of $5.15 and a 52 week high of $16.57. The company has a quick ratio of 0.70, a current ratio of 0.76 and a debt-to-equity ratio of 2.24. The stock has a market capitalization of $7,188.23, a price-to-earnings ratio of 14.21, a price-to-earnings-growth ratio of 0.35 and a beta of 0.52.
ILLEGAL ACTIVITY WARNING: This article was posted by American Banking News and is owned by of American Banking News. If you are viewing this article on another site, it was illegally copied and reposted in violation of US & international trademark & copyright law. The correct version of this article can be viewed at https://www.americanbankingnews.com/2018/01/04/zacks-investment-research-upgrades-air-france-klm-aflyy-to-buy.html.
About Air France KLM
Air France KLM-SA is an airline company. The Company is engaged in passenger transportation. Its activities also include cargo, aeronautics maintenance and other air-transport-related activities, including catering. The Company's two sub-groups Air France and KLM have a flyer program, Flying Blue, which enables members to acquire miles as they fly with airline partners or from transactions with non-airline partners.
Get a free copy of the Zacks research report on Air France KLM (AFLYY)
For more information about research offerings from Zacks Investment Research, visit Zacks.com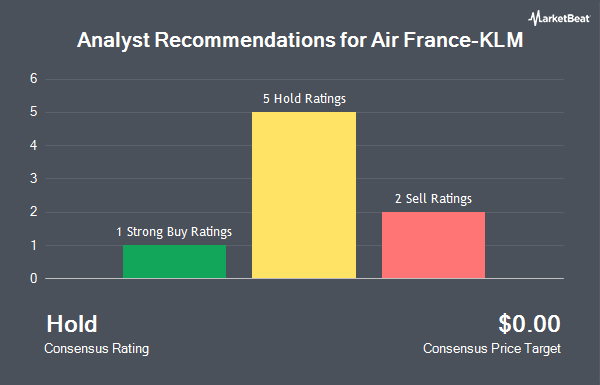 Receive News & Ratings for Air France KLM Daily - Enter your email address below to receive a concise daily summary of the latest news and analysts' ratings for Air France KLM and related companies with MarketBeat.com's FREE daily email newsletter.