Cobham (LON:COB) had its price objective lowered by research analysts at JPMorgan Chase & Co. from GBX 135 ($1.81) to GBX 132 ($1.76) in a research note issued on Friday. The brokerage presently has a "neutral" rating on the stock. JPMorgan Chase & Co.'s target price indicates a potential upside of 7.10% from the company's previous close.
Other equities analysts also recently issued reports about the company. Barclays restated an "equal weight" rating and set a GBX 135 ($1.81) price target on shares of Cobham in a report on Wednesday, December 20th. Liberum Capital restated a "hold" rating and set a GBX 140 ($1.87) price target on shares of Cobham in a report on Wednesday, November 15th. Finally, Goldman Sachs Group restated a "sell" rating on shares of Cobham in a report on Monday, December 11th. Two investment analysts have rated the stock with a sell rating, nine have given a hold rating and two have issued a buy rating to the company's stock. The stock has an average rating of "Hold" and an average target price of GBX 130.29 ($1.74).
Shares of Cobham (LON COB) traded down GBX 3.60 ($0.05) during trading hours on Friday, hitting GBX 123.25 ($1.65). The stock had a trading volume of 8,130,000 shares, compared to its average volume of 5,310,000. Cobham has a 1 year low of GBX 89.07 ($1.19) and a 1 year high of GBX 150.30 ($2.01). The company has a market capitalization of $2,950.00 and a P/E ratio of -308.13.
In other news, insider John McAdam bought 5,000 shares of the company's stock in a transaction on Monday, October 9th. The shares were acquired at an average cost of GBX 148 ($1.98) per share, with a total value of £7,400 ($9,894.37). Also, insider Lyn Colloff sold 1,707 shares of the firm's stock in a transaction dated Friday, December 15th. The stock was sold at an average price of GBX 121 ($1.62), for a total value of £2,065.47 ($2,761.69).
ILLEGAL ACTIVITY WARNING: "Cobham (COB) Price Target Cut to GBX 132 by Analysts at JPMorgan Chase & Co." was posted by American Banking News and is owned by of American Banking News. If you are viewing this report on another publication, it was stolen and republished in violation of United States & international copyright and trademark laws. The correct version of this report can be viewed at https://www.americanbankingnews.com/2018/01/07/cobham-cob-price-target-cut-to-gbx-132-by-analysts-at-jpmorgan-chase-co.html.
About Cobham
Cobham plc is a technology and services provider in commercial and defense and security markets. It operates in four segments. The Communications and Connectivity segment provides equipment and solutions to enable connectivity across a range of environments in aerospace, avionics, satellite and radio, wireless and mobile connectivity markets.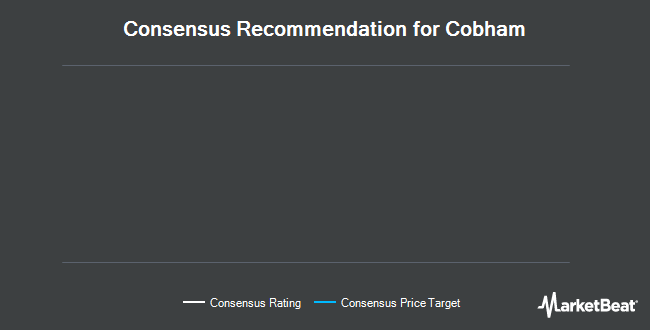 Receive News & Ratings for Cobham Daily - Enter your email address below to receive a concise daily summary of the latest news and analysts' ratings for Cobham and related companies with MarketBeat.com's FREE daily email newsletter.