Tesco (LON:TSCO)'s stock had its "top pick" rating restated by analysts at Goldman Sachs Group in a research report issued to clients and investors on Thursday. They presently have a GBX 220 ($2.94) target price on the retailer's stock. Goldman Sachs Group's price target indicates a potential upside of 4.91% from the stock's previous close.
A number of other research analysts have also recently commented on TSCO. BNP Paribas cut Tesco to an "underperform" rating and set a GBX 165 ($2.21) price target on the stock. in a research report on Wednesday, September 13th. Deutsche Bank restated a "buy" rating and issued a GBX 240 ($3.21) price target on shares of Tesco in a research report on Wednesday, September 20th. Macquarie restated an "outperform" rating and issued a GBX 250 ($3.34) price target on shares of Tesco in a research report on Tuesday, September 26th. Jefferies Group raised their price target on Tesco from GBX 180 ($2.41) to GBX 185 ($2.47) and gave the stock a "hold" rating in a research report on Thursday, September 28th. Finally, Kepler Capital Markets restated a "hold" rating and issued a GBX 189 ($2.53) price target on shares of Tesco in a research report on Thursday, September 28th. Four equities research analysts have rated the stock with a sell rating, three have issued a hold rating, six have given a buy rating and one has issued a strong buy rating to the company. The company presently has a consensus rating of "Hold" and a consensus target price of GBX 203.38 ($2.72).
Tesco (TSCO) traded down GBX 1.50 ($0.02) during mid-day trading on Thursday, reaching GBX 209.70 ($2.80). The company's stock had a trading volume of 22,858,842 shares, compared to its average volume of 21,420,000. The company has a market cap of $17,180.00 and a PE ratio of 3,495.00. Tesco has a 1 year low of GBX 165.35 ($2.21) and a 1 year high of GBX 215.16 ($2.88).
WARNING: "Tesco's (TSCO) Top Pick Rating Reiterated at Goldman Sachs Group" was first reported by American Banking News and is owned by of American Banking News. If you are accessing this report on another site, it was illegally stolen and reposted in violation of United States and international copyright and trademark legislation. The legal version of this report can be viewed at https://www.americanbankingnews.com/2018/01/07/tescos-tsco-top-pick-rating-reiterated-at-goldman-sachs-group.html.
Tesco Company Profile
Tesco PLC (Tesco) is a retail company. The Company is engaged in the business of Retailing and associated activities (Retail) and Retail banking and insurance services. The Company's segments include UK & ROI, which includes the United Kingdom and Republic of Ireland; International, which includes Czech Republic, Hungary, Poland, Slovakia, Malaysia and Thailand, and Tesco Bank, which includes retail banking and insurance services through Tesco Bank in the United Kingdom.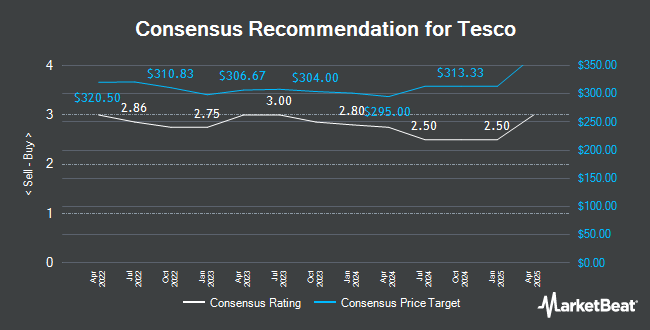 Receive News & Ratings for Tesco Daily - Enter your email address below to receive a concise daily summary of the latest news and analysts' ratings for Tesco and related companies with MarketBeat.com's FREE daily email newsletter.