Allianz (AZSEY) Upgraded to Buy at Zacks Investment Research
Allianz (OTCMKTS:AZSEY) was upgraded by Zacks Investment Research from a "hold" rating to a "buy" rating in a research report issued on Tuesday. The firm presently has a $27.00 target price on the financial services provider's stock. Zacks Investment Research's price target would suggest a potential upside of 12.92% from the stock's current price.
According to Zacks, "Allianz AG's principal activities are carried out through four divisions: Life/Health: Provides any of life and heath insurances; Property/Casualty: Provides property and casualty insurance, travel insurance and credit insurance; Banking: Provides a range of banking services, including lending, deposit taking, investment banking; Asset Management: Asset Management for third party investor and Asset under Management which cover the owners investments. "
Several other brokerages have also issued reports on AZSEY. Societe Generale upgraded shares of Allianz from a "sell" rating to a "hold" rating in a research note on Thursday, September 14th. ValuEngine upgraded shares of Allianz from a "buy" rating to a "strong-buy" rating in a research note on Tuesday, September 26th. Royal Bank of Canada reiterated a "sector perform" rating on shares of Allianz in a research note on Friday, October 20th. DZ Bank reiterated a "buy" rating on shares of Allianz in a research note on Wednesday, November 1st. Finally, Barclays reiterated a "sell" rating on shares of Allianz in a research note on Monday, November 6th. Six equities research analysts have rated the stock with a hold rating and seven have given a buy rating to the stock. Allianz has an average rating of "Buy" and a consensus target price of $27.00.
Shares of Allianz (
OTCMKTS AZSEY
) traded up $0.09 during midday trading on Tuesday, reaching $23.91. 186,562 shares of the company's stock traded hands, compared to its average volume of 258,392. Allianz has a 1-year low of $16.50 and a 1-year high of $23.98. The company has a market cap of $105,300.00, a price-to-earnings ratio of 12.02 and a beta of 1.15.
A hedge fund recently raised its stake in Allianz stock. Hollencrest Securities boosted its position in shares of Allianz SE (OTCMKTS:AZSEY) by 1.9% during the 4th quarter, according to its most recent 13F filing with the SEC. The fund owned 35,034 shares of the financial services provider's stock after purchasing an additional 666 shares during the quarter. Hollencrest Securities' holdings in Allianz were worth $622,000 at the end of the most recent reporting period. 0.24% of the stock is currently owned by institutional investors and hedge funds.
COPYRIGHT VIOLATION WARNING: "Allianz (AZSEY) Upgraded to Buy at Zacks Investment Research" was first posted by American Banking News and is the sole property of of American Banking News. If you are viewing this report on another publication, it was illegally stolen and reposted in violation of international copyright legislation. The correct version of this report can be viewed at https://www.americanbankingnews.com/2018/01/09/allianz-azsey-upgraded-to-buy-at-zacks-investment-research.html.
About Allianz
Allianz SE is a financial service company. The Company is the holding company of the Allianz Group (Allianz SE and its subsidiaries). The Company's segments include Property-Casualty, Life/Health, Asset Management, and Corporate and Other. The Company provides a range of reinsurance coverage, primarily to Allianz insurance entities, as well as to third-party customers.
Get a free copy of the Zacks research report on Allianz (AZSEY)
For more information about research offerings from Zacks Investment Research, visit Zacks.com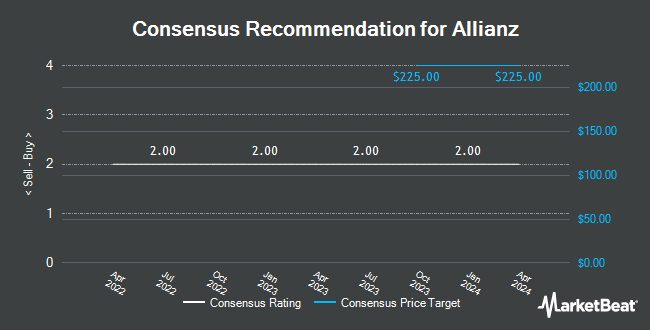 Receive News & Ratings for Allianz Daily - Enter your email address below to receive a concise daily summary of the latest news and analysts' ratings for Allianz and related companies with MarketBeat.com's FREE daily email newsletter.