National Grid plc (LON:NG) insider Nicola Shaw purchased 18 shares of the company's stock in a transaction that occurred on Monday, January 8th. The shares were acquired at an average cost of GBX 864 ($11.72) per share, for a total transaction of £155.52 ($210.90).
Shares of National Grid plc (LON:NG) traded down GBX 13.90 ($0.19) during trading hours on Tuesday, reaching GBX 850.70 ($11.54). The company had a trading volume of 8,777,826 shares, compared to its average volume of 7,250,000. National Grid plc has a 1 year low of GBX 844.80 ($11.46) and a 1 year high of GBX 1,097 ($14.88). The company has a market cap of $28,650.00 and a P/E ratio of 1,772.29.
The company also recently declared a dividend, which will be paid on Wednesday, January 10th. Shareholders of record on Thursday, November 23rd will be issued a GBX 15.49 ($0.21) dividend. The ex-dividend date of this dividend is Thursday, November 23rd. This represents a yield of 1.73%.
Several research firms recently weighed in on NG. JPMorgan Chase & Co. dropped their price target on National Grid from GBX 1,060 ($14.37) to GBX 1,040 ($14.10) and set an "overweight" rating on the stock in a research report on Wednesday, December 6th. Deutsche Bank reaffirmed a "sell" rating and issued a GBX 900 ($12.21) target price on shares of National Grid in a research report on Monday, October 30th. Credit Suisse Group raised National Grid to a "neutral" rating and set a GBX 860 ($11.66) target price on the stock in a research report on Monday, November 27th. Macquarie set a GBX 990 ($13.43) target price on National Grid and gave the stock a "buy" rating in a research report on Tuesday, December 19th. Finally, Morgan Stanley reaffirmed an "overweight" rating on shares of National Grid in a research report on Tuesday, October 31st. Two analysts have rated the stock with a sell rating, six have given a hold rating and eight have given a buy rating to the company's stock. National Grid currently has a consensus rating of "Hold" and an average target price of GBX 993.94 ($13.48).
COPYRIGHT VIOLATION NOTICE: "National Grid plc (NG) Insider Acquires £155.52 in Stock" was originally published by American Banking News and is owned by of American Banking News. If you are accessing this piece of content on another publication, it was stolen and reposted in violation of US & international trademark and copyright laws. The original version of this piece of content can be viewed at https://www.americanbankingnews.com/2018/01/09/national-grid-plc-ng-insider-acquires-155-52-in-stock.html.
About National Grid
National Grid plc is an electricity and gas utility company focused on transmission and distribution activities in electricity and gas in both the United Kingdom and the United States. The Company's segments include UK Electricity Transmission, which is engaged in high voltage electricity transmission networks in Great Britain; UK Gas Transmission, which is the gas transmission network in Great Britain and United Kingdom liquefied natural gas (LNG) storage activities; UK Gas Distribution, which includes approximately four of the eight regional networks of Great Britain's gas distribution system, and US Regulated, which includes gas distribution networks, electricity distribution networks and high voltage electricity transmission networks in New York, and New England and electricity generation facilities in New York.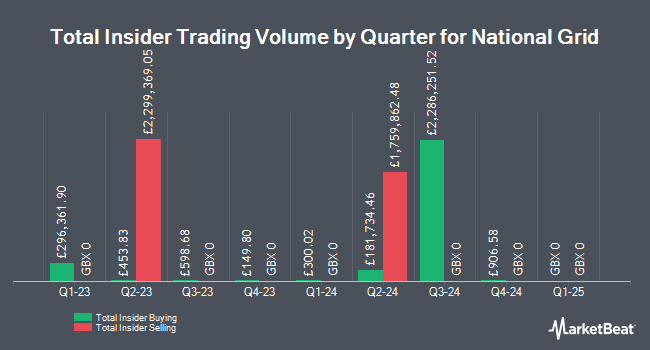 Receive News & Ratings for National Grid Daily - Enter your email address below to receive a concise daily summary of the latest news and analysts' ratings for National Grid and related companies with MarketBeat.com's FREE daily email newsletter.