Societe Generale (SCGLY) Raised to "Hold" at Zacks Investment Research
Societe Generale (OTCMKTS:SCGLY) was upgraded by Zacks Investment Research from a "strong sell" rating to a "hold" rating in a research note issued on Tuesday.
According to Zacks, "SOCIETE GENL FR Group is the sixth largest bank in the euro zone. Its business mix is structured around three core businesses: Retail Banking, Asset Management and Private Banking, Corporate and Investment Banking. The Group is implementing a sustainable growth policy based on the selective development of its products and services, a client-focused culture of innovation in its different markets, and sustained organic growth coupled with acquisitions. "
Separately, Credit Suisse Group reiterated an "underperform" rating on shares of Societe Generale in a research note on Tuesday, October 3rd. One equities research analyst has rated the stock with a sell rating, four have given a hold rating and three have assigned a buy rating to the stock. Societe Generale presently has an average rating of "Hold" and an average target price of $13.00.
Societe Generale (
OTCMKTS:SCGLY
) traded down $0.05 during trading on Tuesday, reaching $10.81. 38,790 shares of the company were exchanged, compared to its average volume of 253,784. The company has a debt-to-equity ratio of 3.05, a current ratio of 1.40 and a quick ratio of 1.40. Societe Generale has a 12 month low of $8.56 and a 12 month high of $12.05. The stock has a market cap of $44,233.45, a price-to-earnings ratio of 13.35, a P/E/G ratio of 1.09 and a beta of 1.26.
ILLEGAL ACTIVITY NOTICE: "Societe Generale (SCGLY) Raised to "Hold" at Zacks Investment Research" was originally published by American Banking News and is owned by of American Banking News. If you are accessing this report on another website, it was illegally copied and republished in violation of United States & international copyright & trademark legislation. The correct version of this report can be accessed at https://www.americanbankingnews.com/2018/01/09/societe-generale-scgly-raised-to-hold-at-zacks-investment-research.html.
Societe Generale Company Profile
Societe Generale SA is a France- based financial services company. It is engaged in retail banking, corporate and investment banking, financial services, insurance, private banking and asset management. Its core businesses are managed through three segments: French Retail Banking, International Retail Banking & Financial Services, and Global Banking and Investor Solutions.
Get a free copy of the Zacks research report on Societe Generale (SCGLY)
For more information about research offerings from Zacks Investment Research, visit Zacks.com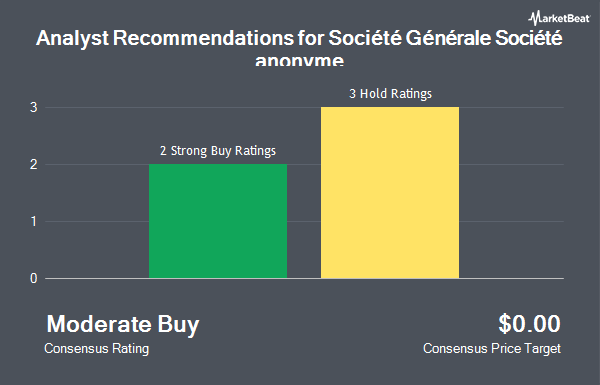 Receive News & Ratings for Societe Generale Daily - Enter your email address below to receive a concise daily summary of the latest news and analysts' ratings for Societe Generale and related companies with MarketBeat.com's FREE daily email newsletter.