NVE (NVEC) Set to Announce Quarterly Earnings on Wednesday
NVE (NASDAQ:NVEC) will be issuing its quarterly earnings data after the market closes on Wednesday, January 17th. Analysts expect the company to announce earnings of $0.63 per share for the quarter.
NVE (NASDAQ:NVEC) last released its quarterly earnings data on Wednesday, October 18th. The semiconductor company reported $0.65 earnings per share for the quarter, topping the Zacks' consensus estimate of $0.61 by $0.04. NVE had a net margin of 44.85% and a return on equity of 14.11%. The business had revenue of $7.00 million for the quarter, compared to analysts' expectations of $7.10 million. On average, analysts expect NVE to post $3 EPS for the current fiscal year and $3 EPS for the next fiscal year.
Shares of NVE (NASDAQ:NVEC) opened at $87.01 on Wednesday. NVE has a twelve month low of $70.57 and a twelve month high of $91.82. The firm has a market cap of $426.49, a PE ratio of 32.47, a P/E/G ratio of 1.31 and a beta of 1.15.
Separately, BidaskClub raised shares of NVE from a "sell" rating to a "hold" rating in a report on Thursday, December 21st.
In related news, CFO Curt A. Reynders sold 1,228 shares of the firm's stock in a transaction that occurred on Thursday, November 16th. The shares were sold at an average price of $88.47, for a total transaction of $108,641.16. The transaction was disclosed in a legal filing with the Securities & Exchange Commission, which is available through this link. Also, Director Terrence Glarner sold 1,000 shares of the firm's stock in a transaction that occurred on Tuesday, November 28th. The stock was sold at an average price of $85.89, for a total transaction of $85,890.00. Following the sale, the director now owns 3,200 shares of the company's stock, valued at $274,848. The disclosure for this sale can be found here. 2.30% of the stock is currently owned by company insiders.
COPYRIGHT VIOLATION WARNING: This piece of content was reported by American Banking News and is the property of of American Banking News. If you are accessing this piece of content on another website, it was copied illegally and republished in violation of United States & international copyright legislation. The legal version of this piece of content can be read at https://www.americanbankingnews.com/2018/01/10/nve-nvec-set-to-announce-quarterly-earnings-on-wednesday.html.
About NVE
NVE Corporation develops and sells devices that use spintronics, a nanotechnology that relies on electron spin to acquire, store and transmit information. The Company manufactures spintronic products, including sensors and couplers that are used to acquire and transmit data. The Company has also licensed its spintronic magnetoresistive random access memory technology (MRAM).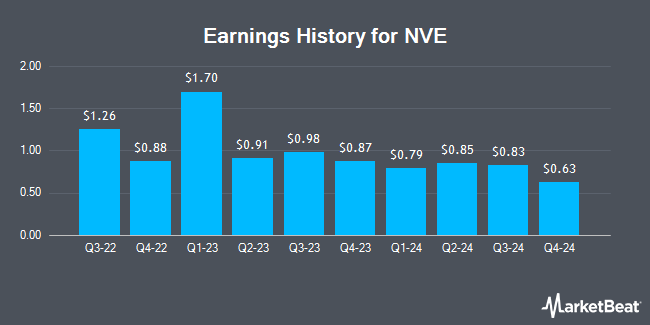 Receive News & Ratings for NVE Daily - Enter your email address below to receive a concise daily summary of the latest news and analysts' ratings for NVE and related companies with MarketBeat.com's FREE daily email newsletter.