SemiLEDs (NASDAQ:LEDS) announced its earnings results on Wednesday. The semiconductor company reported ($0.11) earnings per share (EPS) for the quarter, RTT News reports. SemiLEDs had a negative net margin of 44.40% and a negative return on equity of 39.66%.
Shares of SemiLEDs (LEDS) traded up $2.73 during midday trading on Wednesday, reaching $6.55. The company's stock had a trading volume of 7,920,000 shares, compared to its average volume of 252,916. The stock has a market capitalization of $23.21, a price-to-earnings ratio of -5.65 and a beta of 2.63. The company has a current ratio of 1.08, a quick ratio of 0.68 and a debt-to-equity ratio of 0.31. SemiLEDs has a 52 week low of $1.61 and a 52 week high of $10.49.
COPYRIGHT VIOLATION WARNING: "SemiLEDs (LEDS) Issues Earnings Results" was posted by American Banking News and is the sole property of of American Banking News. If you are viewing this piece of content on another publication, it was illegally copied and reposted in violation of United States & international copyright laws. The original version of this piece of content can be read at https://www.americanbankingnews.com/2018/01/10/semileds-leds-issues-earnings-results.html.
About SemiLEDs
SemiLEDs Corporation develops, manufactures and sells light emitting diode (LED) chips and LED components. The Company's products are used primarily for general lighting applications, including street lights and commercial, industrial and residential lighting. Its LED chips may also be used in specialty industrial applications, such as ultraviolet (UV), curing of polymers, LED light therapy in medical/cosmetic applications, counterfeit detection, LED lighting for horticulture applications, architectural lighting and entertainment lighting.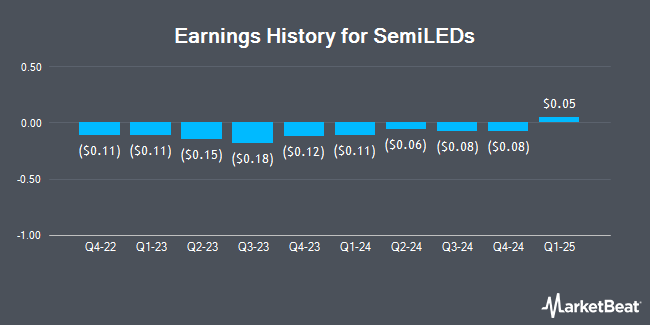 Receive News & Ratings for SemiLEDs Daily - Enter your email address below to receive a concise daily summary of the latest news and analysts' ratings for SemiLEDs and related companies with MarketBeat.com's FREE daily email newsletter.