Eight Capital Reiterates C$2.30 Price Target for Athabasca Oil (ATH)
Athabasca Oil (TSE:ATH) received a C$2.30 price objective from Eight Capital in a research report issued on Thursday. The firm currently has a "buy" rating on the oil and gas exploration company's stock. Eight Capital's price target would suggest a potential upside of 100.00% from the company's current price.
Separately, BMO Capital Markets raised Athabasca Oil from an "underperform" rating to a "market perform" rating and set a C$1.30 target price on the stock in a report on Thursday, December 7th. Four research analysts have rated the stock with a hold rating and two have assigned a buy rating to the stock. The company presently has a consensus rating of "Hold" and an average price target of C$1.79.
Athabasca Oil (TSE ATH) traded up C$0.04 during trading hours on Thursday, reaching C$1.15. The company's stock had a trading volume of 1,276,500 shares, compared to its average volume of 1,010,000. Athabasca Oil has a 52 week low of C$0.85 and a 52 week high of C$1.92. The company has a market cap of $586.25, a P/E ratio of -0.60 and a beta of 1.15.
ILLEGAL ACTIVITY NOTICE: This piece of content was originally published by American Banking News and is owned by of American Banking News. If you are accessing this piece of content on another website, it was illegally copied and republished in violation of US & international copyright & trademark laws. The original version of this piece of content can be viewed at https://www.americanbankingnews.com/2018/01/11/eight-capital-reiterates-c2-30-price-target-for-athabasca-oil-ath.html.
About Athabasca Oil
Athabasca Oil Corporation is a Canada-based energy company, which is focused on the exploration for, and development and production of, light oil and liquids-rich natural gas from regions in northwestern Alberta, Canada, and bitumen from oil sands in the Athabasca region of northeastern Alberta, Canada.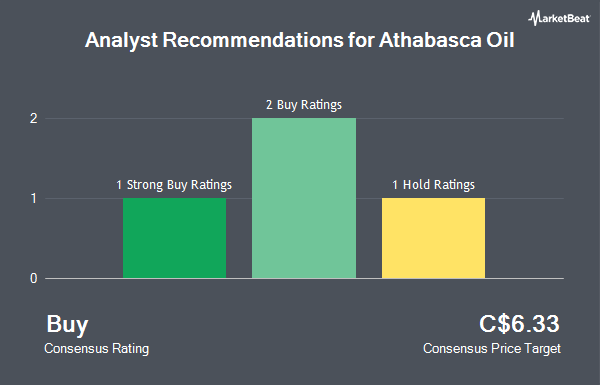 Receive News & Ratings for Athabasca Oil Daily - Enter your email address below to receive a concise daily summary of the latest news and analysts' ratings for Athabasca Oil and related companies with MarketBeat.com's FREE daily email newsletter.