Canfor Pulp Products (TSE:CFX) was upgraded by investment analysts at CIBC from a "neutral" rating to an "outperform" rating in a report issued on Friday. The brokerage presently has a C$18.00 price objective on the stock, up from their previous price objective of C$15.00. CIBC's price objective would indicate a potential upside of 27.66% from the company's current price.
A number of other analysts have also commented on the stock. Scotiabank reissued a "sector perform" rating and issued a C$13.75 price target on shares of Canfor Pulp Products in a research report on Tuesday, October 24th. TD Securities raised shares of Canfor Pulp Products from a "hold" rating to a "buy" rating and increased their price target for the stock from C$14.50 to C$16.00 in a research report on Monday. Two research analysts have rated the stock with a hold rating and three have issued a buy rating to the company. Canfor Pulp Products has an average rating of "Buy" and an average target price of C$14.65.
Canfor Pulp Products (CFX) traded up C$0.15 during mid-day trading on Friday, reaching C$14.10. 31,596 shares of the company's stock were exchanged, compared to its average volume of 20,330. Canfor Pulp Products has a 52 week low of C$10.08 and a 52 week high of C$14.58. The stock has a market capitalization of $920.15, a price-to-earnings ratio of 13.96 and a beta of 0.58.
ILLEGAL ACTIVITY WARNING: This piece of content was originally published by American Banking News and is owned by of American Banking News. If you are viewing this piece of content on another publication, it was copied illegally and reposted in violation of US and international trademark & copyright legislation. The legal version of this piece of content can be viewed at https://www.americanbankingnews.com/2018/01/12/canfor-pulp-products-cfx-upgraded-at-cibc.html.
About Canfor Pulp Products
Canfor Pulp Products Inc is a supplier of pulp and paper products. The Company operates through two segments: Pulp and Paper. The Company's Pulp segment includes its four pulp mills: the Northwood pulp mill, the Intercontinental pulp mill, pulp produced at the Prince George pulp and paper mill, and the Taylor pulp mill.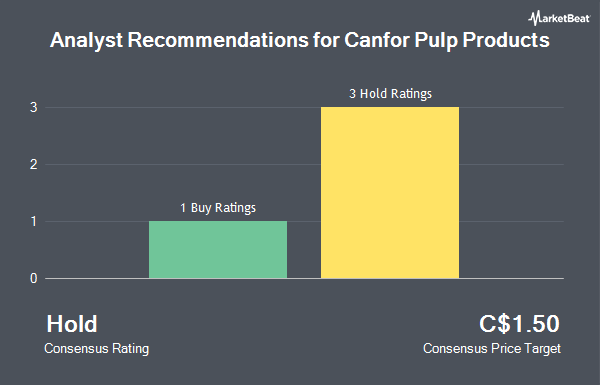 Receive News & Ratings for Canfor Pulp Products Daily - Enter your email address below to receive a concise daily summary of the latest news and analysts' ratings for Canfor Pulp Products and related companies with MarketBeat.com's FREE daily email newsletter.