Spectris (LON:SXS) had its price objective raised by equities researchers at Liberum Capital from GBX 2,830 ($38.38) to GBX 2,880 ($39.06) in a report released on Friday. The firm currently has a "buy" rating on the stock. Liberum Capital's price target points to a potential upside of 10.18% from the stock's previous close.
Other analysts also recently issued reports about the company. Peel Hunt reissued a "hold" rating and issued a GBX 2,585 ($35.06) target price on shares of Spectris in a report on Tuesday, October 31st. Shore Capital reissued a "buy" rating on shares of Spectris in a report on Tuesday, November 21st. Goldman Sachs Group started coverage on Spectris in a report on Wednesday, December 13th. They issued a "buy" rating and a GBX 2,900 ($39.33) target price for the company. Barclays boosted their target price on Spectris from GBX 2,710 ($36.75) to GBX 2,750 ($37.29) and gave the company an "overweight" rating in a report on Monday, December 18th. Finally, Deutsche Bank reissued a "buy" rating and issued a GBX 2,860 ($38.78) target price on shares of Spectris in a report on Friday, October 13th. Two analysts have rated the stock with a sell rating, four have assigned a hold rating and seven have given a buy rating to the company. The company has an average rating of "Hold" and an average target price of GBX 2,654.17 ($35.99).
Shares of Spectris (LON SXS) traded up GBX 55 ($0.75) during midday trading on Friday, reaching GBX 2,614 ($35.45). The company's stock had a trading volume of 374,551 shares, compared to its average volume of 224,534. The stock has a market cap of $3,120.00 and a P/E ratio of 29,044.44. Spectris has a 12 month low of GBX 2,225 ($30.17) and a 12 month high of GBX 2,869 ($38.91).
TRADEMARK VIOLATION WARNING: "Liberum Capital Boosts Spectris (SXS) Price Target to GBX 2,880" was first published by American Banking News and is the property of of American Banking News. If you are accessing this report on another domain, it was illegally stolen and reposted in violation of US and international trademark and copyright legislation. The correct version of this report can be viewed at https://www.americanbankingnews.com/2018/01/13/liberum-capital-boosts-spectris-sxs-price-target-to-gbx-2880.html.
Spectris Company Profile
Spectris plc is a supplier of productivity-enhancing instruments and controls. It operates through four segments: Materials Analysis, Test and Measurement, In-Line Instrumentation and Industrial Controls. The Materials Analysis segment provides products and services that determine structure, composition, quantity and quality of particles and materials, during research and product development processes.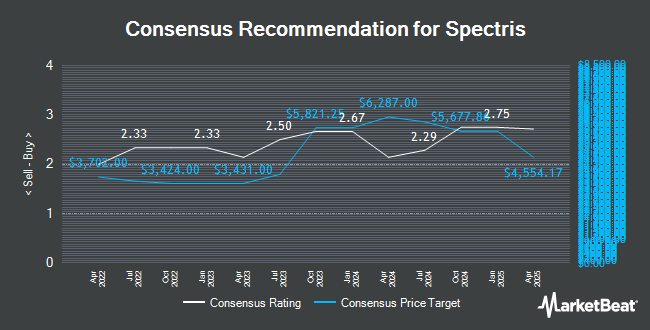 Receive News & Ratings for Spectris Daily - Enter your email address below to receive a concise daily summary of the latest news and analysts' ratings for Spectris and related companies with MarketBeat.com's FREE daily email newsletter.