Meggitt (LON:MGGT) had its target price lifted by Liberum Capital from GBX 375 ($5.09) to GBX 410 ($5.56) in a research report issued on Friday. The brokerage presently has a "sell" rating on the stock. Liberum Capital's target price points to a potential downside of 15.91% from the stock's previous close.
Several other equities research analysts also recently commented on the company. JPMorgan Chase & Co. decreased their price objective on Meggitt from GBX 550 ($7.46) to GBX 540 ($7.32) and set an "overweight" rating for the company in a report on Friday, January 5th. Jefferies Group restated a "buy" rating on shares of Meggitt in a report on Monday, December 18th. Finally, Credit Suisse Group restated an "underperform" rating on shares of Meggitt in a report on Tuesday, October 24th. Two analysts have rated the stock with a sell rating, five have issued a hold rating and four have given a buy rating to the stock. The company presently has an average rating of "Hold" and an average target price of GBX 495.70 ($6.72).
Meggitt (LON:MGGT) traded up GBX 8.30 ($0.11) during midday trading on Friday, hitting GBX 487.60 ($6.61). The stock had a trading volume of 5,565,228 shares, compared to its average volume of 1,750,000. The company has a market capitalization of $3,790.00 and a P/E ratio of 1,317.84. Meggitt has a 52-week low of GBX 407.40 ($5.52) and a 52-week high of GBX 530 ($7.19).
In other Meggitt news, insider Nigel Rudd acquired 1,500 shares of Meggitt stock in a transaction on Monday, November 20th. The stock was purchased at an average price of GBX 477 ($6.47) per share, for a total transaction of £7,155 ($9,703.01). Insiders acquired a total of 1,577 shares of company stock valued at $752,943 in the last 90 days.
TRADEMARK VIOLATION NOTICE: "Meggitt (MGGT) Given New GBX 410 Price Target at Liberum Capital" was originally posted by American Banking News and is the property of of American Banking News. If you are viewing this piece on another site, it was illegally copied and republished in violation of United States and international copyright & trademark law. The correct version of this piece can be viewed at https://www.americanbankingnews.com/2018/01/13/meggitt-mggt-given-new-gbx-410-price-target-at-liberum-capital.html.
About Meggitt
Meggitt PLC is an engineering company. The Company designs and manufactures high performance components and sub-systems for aerospace, defense and other specialist markets, including energy, medical, industrial, test and automotive. The Company's segments are Meggitt Aircraft Braking Systems (MABS), Meggitt Control Systems (MCS), Meggitt Polymers & Composites (MPC), Meggitt Sensing Systems (MSS) and the Meggitt Equipment Group (MEG).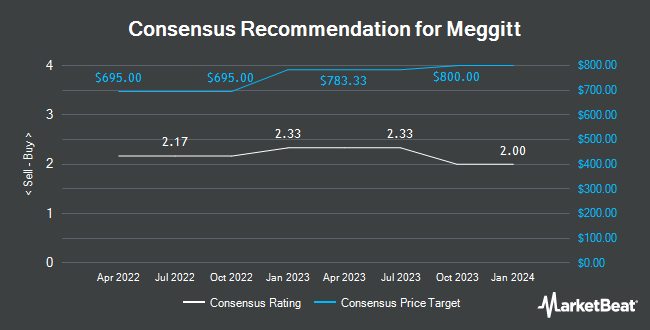 Receive News & Ratings for Meggitt Daily - Enter your email address below to receive a concise daily summary of the latest news and analysts' ratings for Meggitt and related companies with MarketBeat.com's FREE daily email newsletter.