Hochschild Mining Plc (HOC) Given Average Recommendation of "Hold" by Analysts
Shares of Hochschild Mining Plc (LON:HOC) have received an average recommendation of "Hold" from the seven research firms that are presently covering the company, MarketBeat.com reports. One equities research analyst has rated the stock with a sell recommendation, four have assigned a hold recommendation and one has assigned a buy recommendation to the company. The average 1-year target price among brokers that have issued a report on the stock in the last year is GBX 250 ($3.39).
A number of brokerages recently issued reports on HOC. Numis Securities reissued an "add" rating and set a GBX 260 ($3.53) price target on shares of Hochschild Mining in a research report on Thursday, October 19th. Barclays reduced their price target on Hochschild Mining from GBX 285 ($3.86) to GBX 235 ($3.19) and set an "equal weight" rating on the stock in a research report on Tuesday, October 24th. Royal Bank of Canada raised Hochschild Mining to an "outperform" rating and increased their price target for the stock from GBX 260 ($3.53) to GBX 270 ($3.66) in a research report on Thursday, November 2nd. Finally, JPMorgan Chase & Co. increased their price target on Hochschild Mining from GBX 205 ($2.78) to GBX 210 ($2.85) and gave the stock an "underweight" rating in a research report on Thursday.
In other Hochschild Mining news, insider Ignacio Bustamante sold 90,000 shares of the firm's stock in a transaction on Wednesday, December 27th. The stock was sold at an average price of GBX 257 ($3.49), for a total value of £231,300 ($313,669.65).
Shares of Hochschild Mining (
LON:HOC
) traded up GBX 5 ($0.07) during midday trading on Monday, hitting GBX 259.60 ($3.52). The stock had a trading volume of 1,600,000 shares, compared to its average volume of 1,340,000. The company has a market capitalization of $1,300.00 and a price-to-earnings ratio of 5,192.00. Hochschild Mining has a one year low of GBX 215.39 ($2.92) and a one year high of GBX 337.60 ($4.58).
COPYRIGHT VIOLATION NOTICE: "Hochschild Mining Plc (HOC) Given Average Recommendation of "Hold" by Analysts" was first posted by American Banking News and is the sole property of of American Banking News. If you are accessing this story on another publication, it was stolen and reposted in violation of United States and international copyright legislation. The correct version of this story can be accessed at https://www.americanbankingnews.com/2018/01/15/hochschild-mining-plc-hoc-given-average-recommendation-of-hold-by-analysts.html.
About Hochschild Mining
Hochschild Mining plc is engaged in mining, processing and sale of silver and gold. It has approximately three operating mines (Arcata, Pallancata and Inmaculada) located in southern Peru and approximately one operating mine (San Jose) located in Argentina. Its segments include Arcata, Pallancata, San Jose, Inmaculada, Exploration and Other.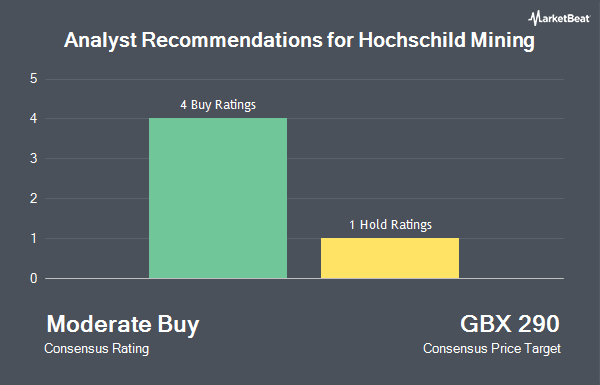 Receive News & Ratings for Hochschild Mining Daily - Enter your email address below to receive a concise daily summary of the latest news and analysts' ratings for Hochschild Mining and related companies with MarketBeat.com's FREE daily email newsletter.