Just Eat (LON:JE)'s stock had its "buy" rating reaffirmed by equities researchers at Liberum Capital in a research note issued to investors on Monday. They presently have a GBX 880 ($11.93) price objective on the stock. Liberum Capital's price target would indicate a potential upside of 11.39% from the stock's previous close.
Several other equities analysts have also recently issued reports on the company. Peel Hunt reaffirmed a "buy" rating and set a GBX 895 ($12.14) price objective on shares of Just Eat in a report on Monday, October 2nd. Barclays raised Just Eat to an "overweight" rating and lifted their price objective for the stock from GBX 700 ($9.49) to GBX 1,000 ($13.56) in a report on Thursday. Macquarie reaffirmed an "outperform" rating and set a GBX 747 ($10.13) price objective on shares of Just Eat in a report on Monday, September 25th. Canaccord Genuity reaffirmed a "buy" rating and set a GBX 820 ($11.12) price objective on shares of Just Eat in a report on Tuesday, October 31st. Finally, Deutsche Bank lifted their price objective on Just Eat from GBX 760 ($10.31) to GBX 790 ($10.71) and gave the stock a "buy" rating in a report on Tuesday, October 24th. Four analysts have rated the stock with a hold rating, ten have issued a buy rating and one has issued a strong buy rating to the company's stock. Just Eat currently has an average rating of "Buy" and an average target price of GBX 848 ($11.50).
Just Eat (LON JE) traded down GBX 8.40 ($0.11) on Monday, hitting GBX 790 ($10.71). The stock had a trading volume of 1,477,825 shares, compared to its average volume of 2,180,000. The firm has a market cap of $5,370.00 and a PE ratio of 6,583.33. Just Eat has a 1-year low of GBX 495.07 ($6.71) and a 1-year high of GBX 827 ($11.22).
In other Just Eat news, insider Frederic Coorevits sold 13,500,000 shares of the firm's stock in a transaction on Thursday, November 2nd. The stock was sold at an average price of GBX 760 ($10.31), for a total transaction of £102,600,000 ($139,137,510.17).
WARNING: "Just Eat (JE) Earns Buy Rating from Liberum Capital" was originally reported by American Banking News and is owned by of American Banking News. If you are viewing this piece on another site, it was copied illegally and republished in violation of US & international copyright & trademark law. The correct version of this piece can be accessed at https://www.americanbankingnews.com/2018/01/15/just-eat-je-earns-buy-rating-from-liberum-capital.html.
Just Eat Company Profile
Just Eat plc is a United Kingdom-based operator of digital marketplace for takeaway food delivery. The Company's segments include the UK, Australia & New Zealand, Established Markets and Developing Markets. The Established Markets includes Benelux, Canada, Denmark, France, Ireland, Norway and Switzerland.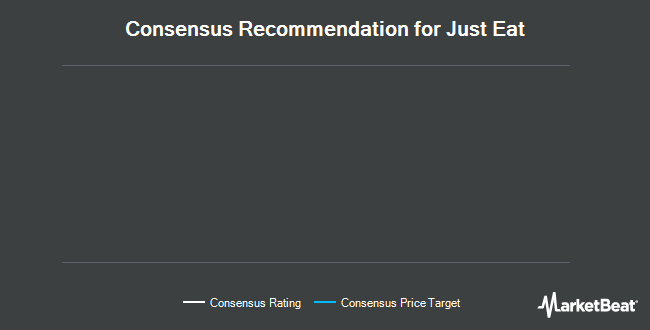 Receive News & Ratings for Just Eat Daily - Enter your email address below to receive a concise daily summary of the latest news and analysts' ratings for Just Eat and related companies with MarketBeat.com's FREE daily email newsletter.