Meridian Bancorp (EBSB) Scheduled to Post Quarterly Earnings on Monday
Meridian Bancorp (NASDAQ:EBSB) will announce its earnings results on Monday, January 22nd. Analysts expect the company to announce earnings of $0.22 per share for the quarter.
Meridian Bancorp (NASDAQ:EBSB) last posted its quarterly earnings data on Tuesday, October 24th. The savings and loans company reported $0.25 earnings per share for the quarter, beating the Zacks' consensus estimate of $0.21 by $0.04. Meridian Bancorp had a return on equity of 7.26% and a net margin of 23.14%. On average, analysts expect Meridian Bancorp to post $1 EPS for the current fiscal year and $1 EPS for the next fiscal year.
Meridian Bancorp (NASDAQ EBSB) opened at $21.35 on Monday. Meridian Bancorp has a 12-month low of $15.85 and a 12-month high of $21.65. The company has a debt-to-equity ratio of 0.74, a quick ratio of 1.23 and a current ratio of 1.23. The firm has a market capitalization of $1,152.26, a PE ratio of 24.54 and a beta of 0.27.
The business also recently disclosed a quarterly dividend, which was paid on Tuesday, January 2nd. Stockholders of record on Tuesday, December 19th were given a dividend of $0.05 per share. This is a boost from Meridian Bancorp's previous quarterly dividend of $0.04. This represents a $0.20 dividend on an annualized basis and a dividend yield of 0.94%. The ex-dividend date was Monday, December 18th. Meridian Bancorp's payout ratio is presently 22.99%.
A number of research analysts have recently weighed in on EBSB shares. BidaskClub cut Meridian Bancorp from a "buy" rating to a "hold" rating in a research report on Thursday, December 7th. Keefe, Bruyette & Woods reaffirmed a "hold" rating and set a $24.50 price objective on shares of Meridian Bancorp in a research report on Friday, December 22nd.
In related news, Director Richard F. Fernandez sold 14,801 shares of Meridian Bancorp stock in a transaction that occurred on Thursday, November 16th. The stock was sold at an average price of $19.75, for a total transaction of $292,319.75. The sale was disclosed in a filing with the SEC, which is accessible through the SEC website. Also, Director Marilyn A. Censullo sold 11,929 shares of Meridian Bancorp stock in a transaction that occurred on Monday, November 27th. The shares were sold at an average price of $19.95, for a total value of $237,983.55. The disclosure for this sale can be found here. Over the last ninety days, insiders have sold 41,420 shares of company stock worth $826,454. Insiders own 5.10% of the company's stock.
TRADEMARK VIOLATION WARNING: This article was first reported by American Banking News and is the sole property of of American Banking News. If you are reading this article on another publication, it was illegally copied and reposted in violation of international copyright and trademark legislation. The original version of this article can be read at https://www.americanbankingnews.com/2018/01/15/meridian-bancorp-ebsb-scheduled-to-post-quarterly-earnings-on-monday.html.
Meridian Bancorp Company Profile
Meridian Bancorp Inc, formerly Meridian Interstate Bancorp, Inc, is a mid-tier stock holding company of East Boston Savings Bank (the Bank). The Bank is a state-chartered stock savings bank that operates from 24 full-service locations and two loan centers in the Boston metropolitan area. East Boston Savings Bank operates eight of its full-service locations and a loan center under the name Mt.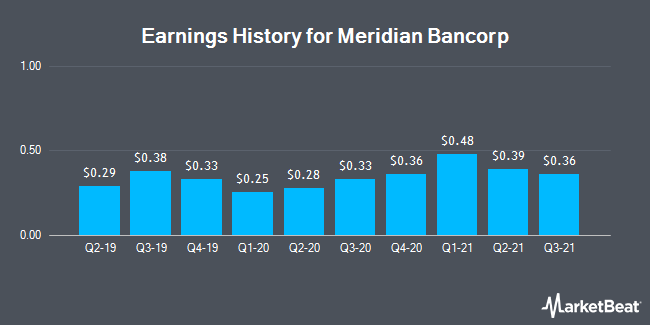 Receive News & Ratings for Meridian Bancorp Daily - Enter your email address below to receive a concise daily summary of the latest news and analysts' ratings for Meridian Bancorp and related companies with MarketBeat.com's FREE daily email newsletter.