Research analysts at Credit Suisse Group initiated coverage on shares of Vedanta Resources (LON:VED) in a research report issued on Monday. The brokerage set an "outperform" rating and a GBX 1,160 ($15.73) price target on the stock. Credit Suisse Group's price objective would indicate a potential upside of 21.34% from the stock's current price.
A number of other equities research analysts have also recently weighed in on VED. Barclays upped their price target on Vedanta Resources from GBX 750 ($10.17) to GBX 780 ($10.58) and gave the stock an "underweight" rating in a report on Monday, January 8th. JPMorgan Chase & Co. upped their price target on Vedanta Resources from GBX 600 ($8.14) to GBX 650 ($8.81) and gave the stock a "neutral" rating in a report on Wednesday, October 11th. Finally, Citigroup restated a "buy" rating on shares of Vedanta Resources in a report on Monday, November 13th. Two investment analysts have rated the stock with a sell rating, two have given a hold rating and three have given a buy rating to the company. The company presently has an average rating of "Hold" and a consensus target price of GBX 877.86 ($11.90).
Vedanta Resources (VED) traded up GBX 45.20 ($0.61) on Monday, hitting GBX 956 ($12.96). The company had a trading volume of 1,151,520 shares, compared to its average volume of 828,168. The firm has a market cap of $2,470.00 and a PE ratio of -13,657.14. Vedanta Resources has a 1-year low of GBX 558.50 ($7.57) and a 1-year high of GBX 1,112.50 ($15.09).
In other Vedanta Resources news, insider Anil Agarwal sold 60,904 shares of the stock in a transaction on Tuesday, November 21st. The stock was sold at an average price of GBX 769 ($10.43), for a total transaction of £468,351.76 ($635,139.35).
COPYRIGHT VIOLATION WARNING: "Vedanta Resources (VED) Receives New Coverage from Analysts at Credit Suisse Group" was originally reported by American Banking News and is owned by of American Banking News. If you are accessing this story on another domain, it was copied illegally and republished in violation of international trademark and copyright legislation. The legal version of this story can be viewed at https://www.americanbankingnews.com/2018/01/15/vedanta-resources-ved-receives-new-coverage-from-analysts-at-credit-suisse-group.html.
About Vedanta Resources
Vedanta Resources plc is a natural resources company, which is engaged in exploring, extracting and processing minerals, and oil and gas. The Company produces zinc, lead, silver, copper, aluminum, iron ore, oil and gas, and commercial power. Its operations are located in India, Zambia, Namibia, South Africa, Liberia, Ireland, Australia and the United Arab Emirates.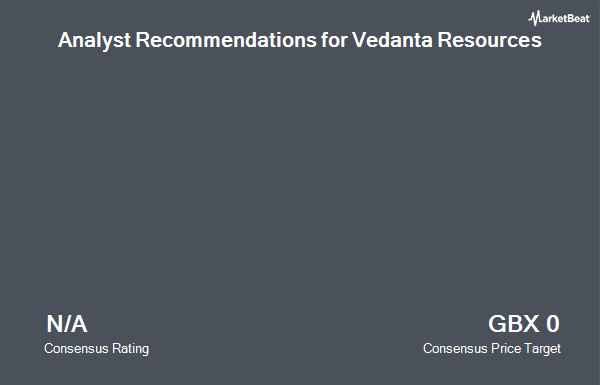 Receive News & Ratings for Vedanta Resources Daily - Enter your email address below to receive a concise daily summary of the latest news and analysts' ratings for Vedanta Resources and related companies with MarketBeat.com's FREE daily email newsletter.