Yamana Gold Inc. (YRI) Expected to Earn Q4 2017 Earnings of $0.05 Per Share
Yamana Gold Inc. (TSE:YRI) (NYSE:AUY) – Equities researchers at Cormark boosted their Q4 2017 earnings estimates for Yamana Gold in a research report issued to clients and investors on Friday. Cormark analyst R. Gray now forecasts that the company will post earnings of $0.05 per share for the quarter, up from their previous estimate of $0.04. Cormark also issued estimates for Yamana Gold's Q4 2018 earnings at $0.06 EPS.
YRI has been the subject of a number of other research reports. National Bank Financial increased their price target on shares of Yamana Gold from C$4.75 to C$5.00 and gave the company a "sector perform" rating in a report on Friday. Desjardins reiterated a "hold" rating on shares of Yamana Gold in a report on Monday, December 11th. Finally, Eight Capital reiterated a "buy" rating on shares of Yamana Gold in a report on Thursday, November 16th. Three research analysts have rated the stock with a hold rating and three have given a buy rating to the company. Yamana Gold has an average rating of "Buy" and an average price target of C$4.50.
Yamana Gold (
YRI
) opened at C$4.31 on Monday. The stock has a market cap of $4,090.00, a PE ratio of -9.37 and a beta of 0.24. Yamana Gold has a twelve month low of C$2.84 and a twelve month high of C$4.80.
The firm also recently disclosed a quarterly dividend, which was paid on Friday, January 12th. Investors of record on Friday, December 29th were paid a $0.006 dividend. This represents a $0.02 dividend on an annualized basis and a yield of 0.56%. This is a boost from Yamana Gold's previous quarterly dividend of $0.01. The ex-dividend date of this dividend was Thursday, December 28th. Yamana Gold's dividend payout ratio is presently -4.35%.
In other Yamana Gold news, Director Peter Marrone acquired 25,900 shares of the stock in a transaction that occurred on Friday, November 17th. The shares were purchased at an average cost of C$3.49 per share, with a total value of C$90,391.00. Also, insider Ross Douglas Gallinger acquired 14,500 shares of the stock in a transaction that occurred on Thursday, November 16th. The stock was acquired at an average cost of C$3.43 per share, for a total transaction of C$49,735.00. Over the last three months, insiders purchased 144,400 shares of company stock worth $496,226.
TRADEMARK VIOLATION NOTICE: This news story was first reported by American Banking News and is the property of of American Banking News. If you are accessing this news story on another publication, it was copied illegally and reposted in violation of U.S. and international trademark and copyright laws. The legal version of this news story can be read at https://www.americanbankingnews.com/2018/01/15/yamana-gold-inc-yri-expected-to-earn-q4-2017-earnings-of-0-05-per-share.html.
Yamana Gold Company Profile
Yamana Gold Inc is a gold producer with gold production, gold development stage properties, exploration properties, and land positions throughout the Americas, including Canada, Brazil, Chile and Argentina. The Company's segments include Chapada mine in Brazil; El Penon mine in Chile; Canadian Malartic mine in Canada; Gualcamayo mine in Argentina; Minera Florida mine in Chile; Jacobina mine in Brazil; Brio Gold Inc (Brio Gold), and Corporate and other.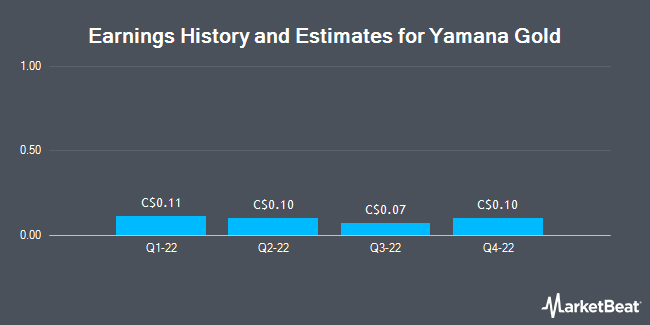 Receive News & Ratings for Yamana Gold Daily - Enter your email address below to receive a concise daily summary of the latest news and analysts' ratings for Yamana Gold and related companies with MarketBeat.com's FREE daily email newsletter.