Bonterra Energy Corp (BNE) Receives Average Rating of "Buy" from Brokerages
Bonterra Energy Corp (TSE:BNE) has been assigned a consensus recommendation of "Buy" from the six research firms that are presently covering the firm, MarketBeat reports. One analyst has rated the stock with a sell recommendation, one has given a hold recommendation, three have issued a buy recommendation and one has assigned a strong buy recommendation to the company. The average 12-month target price among analysts that have issued ratings on the stock in the last year is C$22.70.
A number of research firms have recently issued reports on BNE. National Bank Financial raised their price target on Bonterra Energy from C$21.00 to C$21.50 and gave the stock an "outperform" rating in a research note on Tuesday, January 9th. BMO Capital Markets downgraded Bonterra Energy from a "market perform" rating to an "underperform" rating and lowered their target price for the company from C$16.00 to C$15.00 in a research report on Tuesday, October 10th. AltaCorp Capital upgraded Bonterra Energy from a "sector perform" rating to an "outperform" rating in a research report on Thursday, December 21st. Finally, TD Securities lifted their target price on Bonterra Energy from C$18.50 to C$19.50 and gave the company a "buy" rating in a research report on Thursday, November 9th.
In related news, insider George Frederick Fink bought 2,500 shares of the stock in a transaction that occurred on Thursday, October 19th. The shares were bought at an average cost of C$14.08 per share, for a total transaction of C$35,200.00.
Bonterra Energy (
TSE BNE
) traded down C$0.06 during mid-day trading on Tuesday, hitting C$15.16. The stock had a trading volume of 147,003 shares, compared to its average volume of 172,114. The stock has a market cap of $504.99, a P/E ratio of -758.00 and a beta of 1.20. Bonterra Energy has a 52-week low of C$13.44 and a 52-week high of C$26.89.
Bonterra Energy (TSE:BNE) last released its quarterly earnings results on Wednesday, November 8th. The company reported C($0.09) earnings per share (EPS) for the quarter, topping the Zacks' consensus estimate of C($0.11) by C$0.02. Bonterra Energy had a negative return on equity of 2.33% and a negative net margin of 7.05%.
The business also recently announced a monthly dividend, which will be paid on Wednesday, January 31st. Investors of record on Monday, January 15th will be given a dividend of $0.10 per share. The ex-dividend date of this dividend is Friday, January 12th. This represents a $1.20 annualized dividend and a yield of 7.92%. Bonterra Energy's dividend payout ratio (DPR) is presently -6,000.00%.
COPYRIGHT VIOLATION NOTICE: This report was originally reported by American Banking News and is owned by of American Banking News. If you are viewing this report on another domain, it was copied illegally and republished in violation of US & international trademark and copyright laws. The legal version of this report can be accessed at https://www.americanbankingnews.com/2018/01/16/bonterra-energy-corp-bne-receives-average-rating-of-buy-from-brokerages.html.
About Bonterra Energy
Bonterra Energy Corp. (Bonterra) is an oil and gas company. The Company is focused on the development of its Cardium land within the Pembina and Willesden Green areas located in central Alberta. The Company is engaged in the development and production of oil and natural gas in the Western Canadian Sedimentary Basin.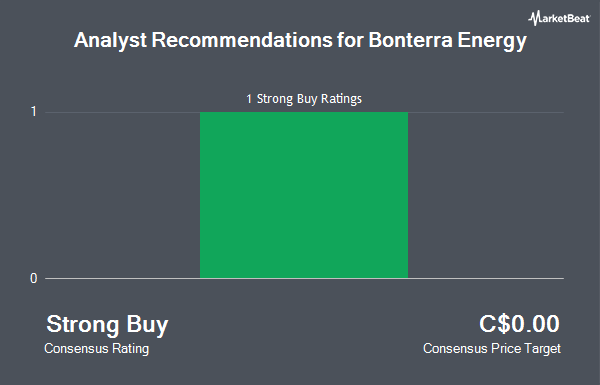 Receive News & Ratings for Bonterra Energy Daily - Enter your email address below to receive a concise daily summary of the latest news and analysts' ratings for Bonterra Energy and related companies with MarketBeat.com's FREE daily email newsletter.