FirstEnergy Corp. (NYSE:FE) declared a quarterly dividend on Tuesday, January 16th, RTT News reports. Shareholders of record on Wednesday, February 7th will be paid a dividend of 0.36 per share by the utilities provider on Thursday, March 1st. This represents a $1.44 dividend on an annualized basis and a yield of 4.79%.
FirstEnergy has a dividend payout ratio of 48.0% meaning its dividend is sufficiently covered by earnings. Equities research analysts expect FirstEnergy to earn $2.50 per share next year, which means the company should continue to be able to cover its $1.44 annual dividend with an expected future payout ratio of 57.6%.
FirstEnergy (FE) traded down $0.17 on Tuesday, hitting $30.07. The stock had a trading volume of 3,989,000 shares, compared to its average volume of 4,554,156. The company has a market cap of $13,300.00, a price-to-earnings ratio of -2.55 and a beta of 0.25. The company has a current ratio of 0.69, a quick ratio of 0.56 and a debt-to-equity ratio of 3.29. FirstEnergy has a 1-year low of $27.93 and a 1-year high of $35.22.
FirstEnergy (NYSE:FE) last released its quarterly earnings data on Thursday, October 26th. The utilities provider reported $0.97 earnings per share for the quarter, topping the consensus estimate of $0.86 by $0.11. The business had revenue of $3.70 billion during the quarter, compared to analyst estimates of $3.72 billion. FirstEnergy had a positive return on equity of 19.29% and a negative net margin of 35.99%. During the same period last year, the company posted $0.90 EPS. equities research analysts expect that FirstEnergy will post 3.04 EPS for the current fiscal year.
Several equities research analysts have recently weighed in on the company. Zacks Investment Research lowered FirstEnergy from a "hold" rating to a "sell" rating in a research note on Monday. Bank of America assumed coverage on FirstEnergy in a research note on Tuesday, October 24th. They set a "neutral" rating and a $34.00 price objective for the company. Deutsche Bank raised FirstEnergy from a "hold" rating to a "buy" rating in a research note on Tuesday, October 17th. ValuEngine raised FirstEnergy from a "hold" rating to a "buy" rating in a research note on Monday, October 2nd. Finally, Citigroup raised their price objective on FirstEnergy from $31.00 to $34.00 and gave the stock a "neutral" rating in a research note on Tuesday, October 17th. One analyst has rated the stock with a sell rating, ten have issued a hold rating and seven have issued a buy rating to the company's stock. FirstEnergy has an average rating of "Hold" and an average target price of $35.32.
TRADEMARK VIOLATION WARNING: "FirstEnergy Corp. Plans Quarterly Dividend of $0.36 (FE)" was originally reported by American Banking News and is the sole property of of American Banking News. If you are viewing this piece on another domain, it was copied illegally and republished in violation of US and international trademark & copyright laws. The correct version of this piece can be read at https://www.americanbankingnews.com/2018/01/16/firstenergy-corp-plans-quarterly-dividend-of-0-36-fe.html.
FirstEnergy Company Profile
FirstEnergy Corp. is a holding company. The Company is engaged in holding, directly or indirectly, all of the outstanding equity of its principal subsidiaries. Its segments include Regulated Distribution, Regulated Transmission, Competitive Energy Services (CES) and Corporate/Other. As of December 31, 2016, the Regulated Distribution segment distributed electricity through the Company's 10 utility operating companies, serving approximately six million customers, and purchased power for its provider of last resort (POLR), standard offer service (SOS), standard offer service (SSO) and default service requirements in Ohio, Pennsylvania, New Jersey and Maryland.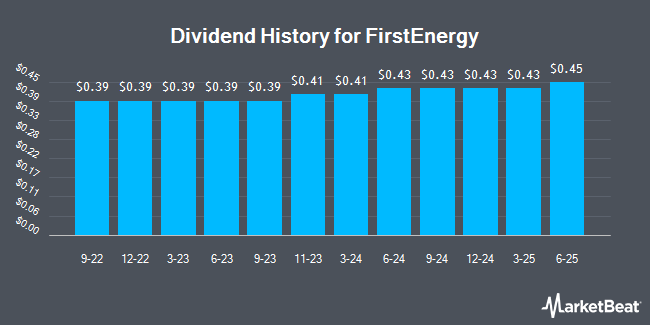 Receive News & Ratings for FirstEnergy Daily - Enter your email address below to receive a concise daily summary of the latest news and analysts' ratings for FirstEnergy and related companies with MarketBeat.com's FREE daily email newsletter.