Iberdrola SA (OTCMKTS:IBDRY) has been given a consensus recommendation of "Hold" by the six research firms that are presently covering the company, Marketbeat.com reports. Five research analysts have rated the stock with a hold rating and one has issued a buy rating on the company.
A number of equities analysts recently weighed in on IBDRY shares. JPMorgan Chase & Co. downgraded shares of Iberdrola from an "overweight" rating to a "neutral" rating in a report on Tuesday, October 3rd. Societe Generale upgraded shares of Iberdrola from a "hold" rating to a "buy" rating in a report on Tuesday.
Shares of Iberdrola (OTCMKTS IBDRY) traded up $0.90 on Tuesday, reaching $32.67. 36,967 shares of the company were exchanged, compared to its average volume of 45,900. The firm has a market capitalization of $49,553.40, a P/E ratio of 17.10 and a beta of 0.67. Iberdrola has a fifty-two week low of $24.63 and a fifty-two week high of $33.39. The company has a debt-to-equity ratio of 0.71, a quick ratio of 0.65 and a current ratio of 0.78.
COPYRIGHT VIOLATION WARNING: This story was published by American Banking News and is the property of of American Banking News. If you are accessing this story on another website, it was copied illegally and republished in violation of US & international copyright law. The original version of this story can be read at https://www.americanbankingnews.com/2018/01/16/iberdrola-sa-ibdry-given-average-recommendation-of-hold-by-analysts.html.
About Iberdrola
IBERDROLA, SA is engaged in carrying out electricity and gas activities in Spain and abroad. The Company's segments include Network business, Deregulated business, Renewable business and Other businesses. The Company's Network business segment includes all the energy transmission and distribution activities, and any other regulated activity originated in Spain, the United Kingdom, the United States and Brazil.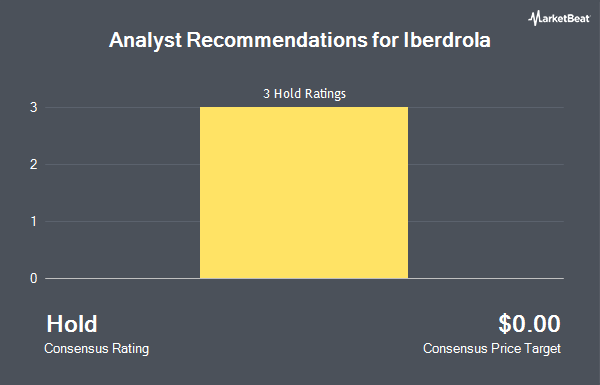 Receive News & Ratings for Iberdrola Daily - Enter your email address below to receive a concise daily summary of the latest news and analysts' ratings for Iberdrola and related companies with MarketBeat.com's FREE daily email newsletter.