Udg Healthcare PLC (LON:UDG) has received a consensus recommendation of "Hold" from the seven analysts that are currently covering the stock, Marketbeat reports. One equities research analyst has rated the stock with a sell rating and six have given a hold rating to the company. The average twelve-month target price among brokers that have covered the stock in the last year is GBX 824 ($11.17).
UDG has been the subject of a number of analyst reports. Peel Hunt reissued an "add" rating and set a GBX 860 ($11.66) price objective on shares of Udg Healthcare in a report on Tuesday, November 28th. N+1 Singer reissued a "hold" rating on shares of Udg Healthcare in a report on Tuesday, November 28th. Liberum Capital reissued a "hold" rating and set a GBX 884 ($11.99) price objective on shares of Udg Healthcare in a report on Wednesday, November 15th. Jefferies Group lifted their price objective on Udg Healthcare from GBX 830 ($11.26) to GBX 855 ($11.59) and gave the company a "hold" rating in a report on Wednesday, October 4th. Finally, Numis Securities cut Udg Healthcare to a "reduce" rating and set a GBX 765 ($10.37) price objective for the company. in a report on Thursday, November 9th.
Shares of Udg Healthcare (LON:UDG) traded up GBX 8.50 ($0.12) on Tuesday, hitting GBX 808.50 ($10.96). 687,670 shares of the stock were exchanged, compared to its average volume of 722,684. The stock has a market capitalization of $1,960.00 and a price-to-earnings ratio of 3,850.00. Udg Healthcare has a 12-month low of GBX 632.50 ($8.58) and a 12-month high of GBX 963 ($13.06).
The firm also recently declared a dividend, which will be paid on Monday, February 5th. Investors of record on Thursday, January 11th will be issued a $0.10 dividend. This represents a dividend yield of 0.84%. This is a boost from Udg Healthcare's previous dividend of $0.04. The ex-dividend date of this dividend is Thursday, January 11th.
ILLEGAL ACTIVITY WARNING: This news story was first reported by American Banking News and is owned by of American Banking News. If you are reading this news story on another site, it was illegally stolen and reposted in violation of US and international trademark & copyright law. The correct version of this news story can be accessed at https://www.americanbankingnews.com/2018/01/16/udg-healthcare-plc-udg-receives-consensus-rating-of-hold-from-brokerages.html.
Udg Healthcare Company Profile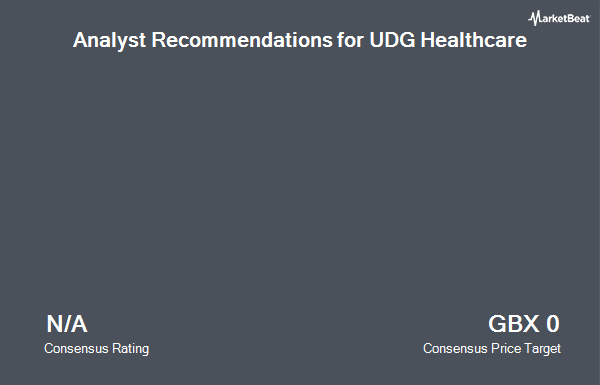 Receive News & Ratings for Udg Healthcare Daily - Enter your email address below to receive a concise daily summary of the latest news and analysts' ratings for Udg Healthcare and related companies with MarketBeat.com's FREE daily email newsletter.