Athabasca Oil (TSE:ATH) had its price target increased by Barclays from C$1.00 to C$1.50 in a report released on Wednesday. Barclays' price target suggests a potential upside of 27.12% from the stock's current price.
Other analysts also recently issued research reports about the stock. Eight Capital set a C$2.30 price objective on shares of Athabasca Oil and gave the stock a "buy" rating in a research note on Thursday, January 11th. BMO Capital Markets raised shares of Athabasca Oil from an "underperform" rating to a "market perform" rating and set a C$1.30 price objective for the company in a research note on Thursday, December 7th. Four research analysts have rated the stock with a hold rating and two have issued a buy rating to the stock. Athabasca Oil has an average rating of "Hold" and a consensus price target of C$1.86.
Athabasca Oil (ATH) traded up C$0.02 on Wednesday, reaching C$1.18. The company had a trading volume of 587,161 shares, compared to its average volume of 1,030,000. The stock has a market capitalization of $601.54, a price-to-earnings ratio of -0.61 and a beta of 1.15. Athabasca Oil has a 12 month low of C$0.85 and a 12 month high of C$1.92.
Athabasca Oil (TSE:ATH) last released its quarterly earnings results on Thursday, November 2nd. The oil and gas exploration company reported C$0.01 EPS for the quarter, topping the Thomson Reuters' consensus estimate of C($0.01) by C$0.02. Athabasca Oil had a return on equity of 1.19% and a net margin of 2.90%.
ILLEGAL ACTIVITY NOTICE: This article was originally published by American Banking News and is the property of of American Banking News. If you are reading this article on another site, it was illegally stolen and republished in violation of U.S. and international trademark & copyright law. The legal version of this article can be viewed at https://www.americanbankingnews.com/2018/01/17/athabasca-oil-ath-pt-raised-to-c1-50.html.
Athabasca Oil Company Profile
Athabasca Oil Corporation is a Canada-based energy company, which is focused on the exploration for, and development and production of, light oil and liquids-rich natural gas from regions in northwestern Alberta, Canada, and bitumen from oil sands in the Athabasca region of northeastern Alberta, Canada.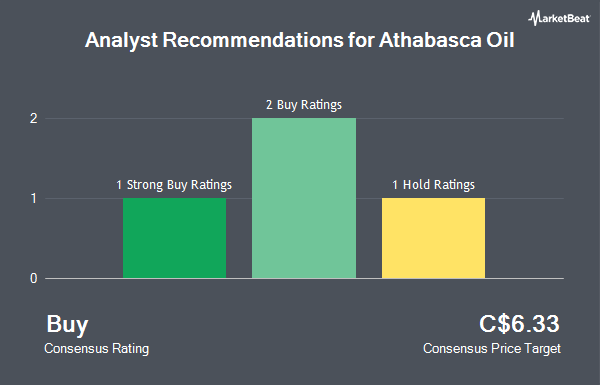 Receive News & Ratings for Athabasca Oil Daily - Enter your email address below to receive a concise daily summary of the latest news and analysts' ratings for Athabasca Oil and related companies with MarketBeat.com's FREE daily email newsletter.