Kaiser Aluminum Corp. (NASDAQ:KALU) announced a quarterly dividend on Wednesday, January 17th, Wall Street Journal reports. Stockholders of record on Friday, January 26th will be given a dividend of 0.55 per share by the industrial products company on Thursday, February 15th. This represents a $2.20 dividend on an annualized basis and a dividend yield of 2.00%. The ex-dividend date is Thursday, January 25th. This is a positive change from Kaiser Aluminum's previous quarterly dividend of $0.50.
Shares of Kaiser Aluminum (KALU) traded down $2.19 on Wednesday, reaching $110.22. 129,300 shares of the company's stock traded hands, compared to its average volume of 94,640. Kaiser Aluminum has a 1-year low of $74.56 and a 1-year high of $113.99. The firm has a market capitalization of $1,920.00, a P/E ratio of 22.68, a P/E/G ratio of 1.32 and a beta of 0.54. The company has a current ratio of 3.75, a quick ratio of 2.55 and a debt-to-equity ratio of 0.47.
Kaiser Aluminum (NASDAQ:KALU) last announced its quarterly earnings data on Wednesday, October 18th. The industrial products company reported $0.90 EPS for the quarter, missing the consensus estimate of $1.09 by ($0.19). Kaiser Aluminum had a net margin of 6.18% and a return on equity of 11.45%. The firm had revenue of $332.80 million for the quarter, compared to analyst estimates of $335.37 million. During the same quarter in the prior year, the firm earned $1.02 earnings per share. The firm's revenue for the quarter was up 3.8% on a year-over-year basis. equities analysts expect that Kaiser Aluminum will post 5.03 earnings per share for the current year.
Several research analysts have commented on KALU shares.
Zacks Investment Research
downgraded shares of Kaiser Aluminum from a "buy" rating to a "hold" rating in a research report on Monday, October 2nd. Cowen set a $97.00 price objective on shares of Kaiser Aluminum and gave the company a "hold" rating in a research report on Thursday, October 12th. Deutsche Bank downgraded shares of Kaiser Aluminum from a "buy" rating to a "hold" rating and set a $104.00 price objective for the company. in a research report on Tuesday, October 17th. Credit Suisse Group boosted their price objective on shares of Kaiser Aluminum from $90.00 to $95.00 and gave the company a "neutral" rating in a research report on Friday, October 20th. Finally, Morgan Stanley boosted their price objective on shares of Kaiser Aluminum from $87.00 to $101.00 and gave the company an "equal weight" rating in a research report on Thursday, November 16th. Two research analysts have rated the stock with a sell rating, four have issued a hold rating, one has issued a buy rating and one has given a strong buy rating to the company. The stock has an average rating of "Hold" and an average price target of $101.29.
In other Kaiser Aluminum news, VP Melinda C. Ellsworth sold 1,000 shares of the business's stock in a transaction on Tuesday, October 31st. The shares were sold at an average price of $99.48, for a total transaction of $99,480.00. The transaction was disclosed in a legal filing with the SEC, which is available at this hyperlink. Insiders own 3.00% of the company's stock.
COPYRIGHT VIOLATION WARNING: "Kaiser Aluminum Corp. (KALU) Declares Quarterly Dividend of $0.55" was published by American Banking News and is the property of of American Banking News. If you are reading this piece on another site, it was illegally stolen and republished in violation of U.S. and international trademark & copyright laws. The legal version of this piece can be viewed at https://www.americanbankingnews.com/2018/01/17/kaiser-aluminum-corp-kalu-declares-quarterly-dividend-of-0-55.html.
Kaiser Aluminum Company Profile
Kaiser Aluminum Corporation manufactures and sells semi-fabricated specialty aluminum mill products. The Company operates in the Fabricated Products segment. The Company's Fabricated Products segment focuses on producing rolled, extruded and drawn aluminum products used principally for aerospace and defense, automotive and general engineering products that include consumer durables, electronics, electrical and machinery and equipment applications.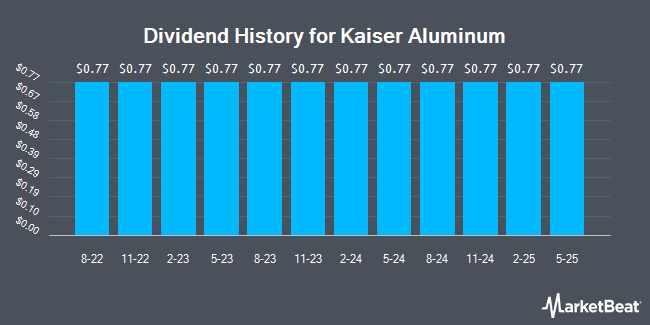 Receive News & Ratings for Kaiser Aluminum Daily - Enter your email address below to receive a concise daily summary of the latest news and analysts' ratings for Kaiser Aluminum and related companies with MarketBeat.com's FREE daily email newsletter.