Bear State Financial Inc (NASDAQ:BSF) announced a quarterly dividend on Thursday, January 18th, Wall Street Journal reports. Shareholders of record on Thursday, February 1st will be given a dividend of 0.03 per share by the financial services provider on Thursday, February 15th. This represents a $0.12 dividend on an annualized basis and a yield of 1.17%. The ex-dividend date of this dividend is Wednesday, January 31st.
Bear State Financial (NASDAQ BSF) traded up $0.02 during midday trading on Thursday, reaching $10.26. 17,000 shares of the company's stock were exchanged, compared to its average volume of 33,482. The company has a debt-to-equity ratio of 1.49, a current ratio of 1.11 and a quick ratio of 1.11. The firm has a market capitalization of $386.73, a PE ratio of 18.00 and a beta of 1.23. Bear State Financial has a 1 year low of $8.66 and a 1 year high of $10.37.
Bear State Financial (NASDAQ:BSF) last posted its earnings results on Thursday, October 19th. The financial services provider reported $0.16 earnings per share (EPS) for the quarter. Bear State Financial had a net margin of 21.33% and a return on equity of 9.47%.
Separately, BidaskClub upgraded shares of Bear State Financial from a "strong sell" rating to a "sell" rating in a research note on Wednesday, December 6th.
A hedge fund recently raised its stake in Bear State Financial stock. California State Teachers Retirement System increased its stake in shares of Bear State Financial Inc (NASDAQ:BSF) by 1.7% during the second quarter, according to its most recent disclosure with the Securities and Exchange Commission. The firm owned 36,743 shares of the financial services provider's stock after acquiring an additional 600 shares during the quarter. California State Teachers Retirement System owned about 0.10% of Bear State Financial worth $348,000 at the end of the most recent reporting period. Institutional investors and hedge funds own 12.38% of the company's stock.
ILLEGAL ACTIVITY NOTICE: "Bear State Financial Inc Announces Quarterly Dividend of $0.03 (BSF)" was first published by American Banking News and is owned by of American Banking News. If you are reading this piece on another site, it was stolen and reposted in violation of international copyright legislation. The legal version of this piece can be viewed at https://www.americanbankingnews.com/2018/01/18/bear-state-financial-inc-announces-quarterly-dividend-of-0-03-bsf.html.
About Bear State Financial
Bear State Financial, Inc is a bank holding company. The Company's subsidiary Bear State Bank, N.A. (the Bank) is a community-oriented financial institution, which offers a range of retail and business deposit accounts, including noninterest bearing and interest bearing checking accounts, savings and money market accounts, certificates of deposit and individual retirement accounts.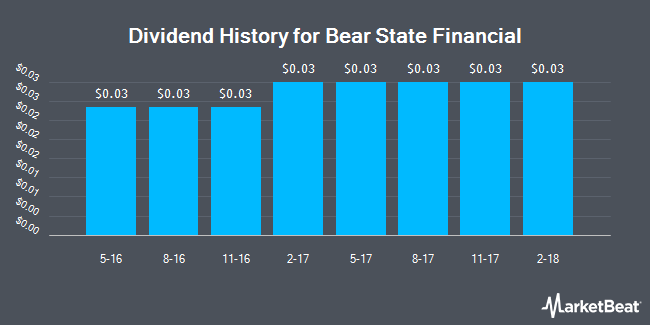 Receive News & Ratings for Bear State Financial Daily - Enter your email address below to receive a concise daily summary of the latest news and analysts' ratings for Bear State Financial and related companies with MarketBeat.com's FREE daily email newsletter.