Kinaxis (TSE:KXS) had its price objective upped by investment analysts at CIBC from C$90.00 to C$95.00 in a note issued to investors on Thursday. The brokerage currently has an "outperform" rating on the stock. CIBC's price objective indicates a potential upside of 21.53% from the company's current price.
KXS has been the topic of several other reports. Scotiabank reduced their price objective on Kinaxis from C$81.00 to C$78.00 and set an "outperform" rating on the stock in a research report on Tuesday, October 24th. Royal Bank of Canada increased their price objective on Kinaxis from C$85.00 to C$90.00 and gave the company an "outperform" rating in a research report on Friday, November 3rd. Three investment analysts have rated the stock with a hold rating and seven have assigned a buy rating to the company's stock. The stock currently has a consensus rating of "Buy" and a consensus target price of C$90.40.
Shares of Kinaxis (KXS) traded up C$0.51 during trading on Thursday, hitting C$78.17. The stock had a trading volume of 55,198 shares, compared to its average volume of 57,377. The company has a market cap of $2,000.00, a price-to-earnings ratio of 100.22 and a beta of 0.97. Kinaxis has a 12-month low of C$63.15 and a 12-month high of C$91.98.
Kinaxis (TSE:KXS) last announced its quarterly earnings data on Wednesday, November 1st. The company reported C$0.29 EPS for the quarter, beating the consensus estimate of C$0.25 by C$0.04. Kinaxis had a return on equity of 21.57% and a net margin of 18.01%.
In related news, insider Richard George Monkman sold 27,900 shares of the firm's stock in a transaction that occurred on Friday, November 17th. The stock was sold at an average price of C$73.35, for a total transaction of C$2,046,465.00. Also, Director Douglas Proctor Colbeth sold 16,616 shares of the firm's stock in a transaction that occurred on Thursday, December 14th. The stock was sold at an average price of C$58.82, for a total value of C$977,353.12. Over the last 90 days, insiders have sold 71,949 shares of company stock worth $5,058,176.
ILLEGAL ACTIVITY NOTICE: This article was first published by American Banking News and is owned by of American Banking News. If you are reading this article on another domain, it was copied illegally and reposted in violation of United States and international copyright & trademark laws. The correct version of this article can be read at https://www.americanbankingnews.com/2018/01/18/cibc-increases-kinaxis-kxs-price-target-to-c95-00.html.
Kinaxis Company Profile
Kinaxis Inc is a provider of cloud-based subscription software for supply chain operations. The Company offers RapidResponse as a collection of cloud-based configurable applications. The Company's RapidResponse product provides supply chain planning and analytics capabilities that create the foundation for managing multiple, interconnected supply chain management processes, including demand planning, supply planning, inventory management, order fulfillment and capacity planning.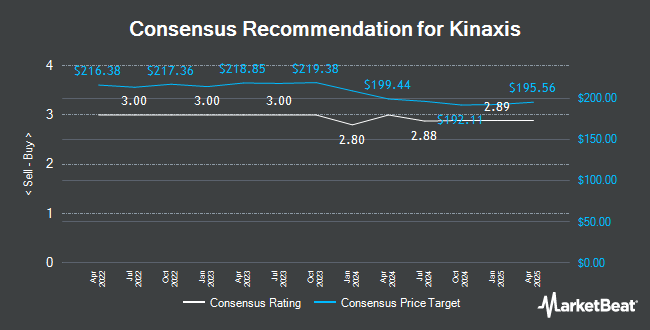 Receive News & Ratings for Kinaxis Daily - Enter your email address below to receive a concise daily summary of the latest news and analysts' ratings for Kinaxis and related companies with MarketBeat.com's FREE daily email newsletter.