Informa (LON:INF)'s stock had its "add" rating reaffirmed by Numis Securities in a report issued on Thursday. They currently have a GBX 825 ($11.19) price target on the stock. Numis Securities' price objective would suggest a potential upside of 16.23% from the company's previous close.
A number of other brokerages have also weighed in on INF. Peel Hunt lowered Informa to a "hold" rating and increased their price target for the stock from GBX 740 ($10.04) to GBX 780 ($10.58) in a research note on Wednesday. Liberum Capital reissued a "buy" rating and set a GBX 855 ($11.59) price target on shares of Informa in a research note on Monday. Deutsche Bank reissued a "buy" rating on shares of Informa in a research note on Wednesday. JPMorgan Chase & Co. reissued a "neutral" rating on shares of Informa in a research note on Friday, November 10th. Finally, Shore Capital reissued a "hold" rating on shares of Informa in a research note on Wednesday. Five equities research analysts have rated the stock with a hold rating, six have assigned a buy rating and one has issued a strong buy rating to the stock. The company presently has an average rating of "Buy" and an average price target of GBX 816.91 ($11.08).
Informa (INF) traded up GBX 5.60 ($0.08) on Thursday, reaching GBX 710.60 ($9.64). The company's stock had a trading volume of 8,491,772 shares, compared to its average volume of 1,860,000. Informa has a 12-month low of GBX 480 ($6.51) and a 12-month high of GBX 773 ($10.48).
In related news, insider Stephen A. Carter purchased 256 shares of the stock in a transaction that occurred on Wednesday, November 8th. The stock was purchased at an average cost of GBX 705 ($9.56) per share, for a total transaction of £1,804.80 ($2,447.52).
ILLEGAL ACTIVITY WARNING: "Informa (INF) Receives Add Rating from Numis Securities" was first published by American Banking News and is the property of of American Banking News. If you are accessing this story on another website, it was illegally copied and reposted in violation of United States and international copyright law. The original version of this story can be viewed at https://www.americanbankingnews.com/2018/01/18/informa-inf-receives-add-rating-from-numis-securities.html.
About Informa
Informa PLC, together with its subsidiaries, operates in business intelligence, academic publishing, and knowledge and events businesses worldwide. It operates in five segments: Academic Publishing, Business Intelligence, Global Exhibitions, Knowledge & Networking, and Penton Information Services.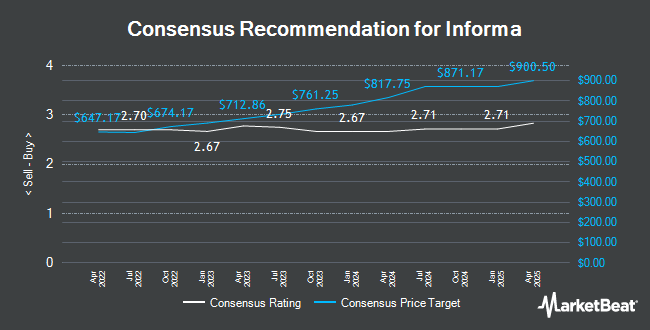 Receive News & Ratings for Informa Daily - Enter your email address below to receive a concise daily summary of the latest news and analysts' ratings for Informa and related companies with MarketBeat.com's FREE daily email newsletter.