National Bank (NBHC) Set to Announce Earnings on Thursday
National Bank (NYSE:NBHC) will post its quarterly earnings results after the market closes on Thursday, January 25th. Analysts expect National Bank to post earnings of $0.30 per share for the quarter.
National Bank (NYSE:NBHC) last issued its quarterly earnings data on Wednesday, October 18th. The financial services provider reported $0.26 earnings per share (EPS) for the quarter, missing the Thomson Reuters' consensus estimate of $0.30 by ($0.04). National Bank had a net margin of 17.13% and a return on equity of 6.40%. The business had revenue of $47.45 million during the quarter, compared to analyst estimates of $48.90 million. During the same quarter in the prior year, the firm posted $0.30 earnings per share. On average, analysts expect National Bank to post $1 EPS for the current fiscal year and $2 EPS for the next fiscal year.
National Bank (NYSE NBHC) opened at $33.81 on Thursday. The company has a debt-to-equity ratio of 0.23, a current ratio of 0.83 and a quick ratio of 0.82. National Bank has a 12-month low of $30.10 and a 12-month high of $37.08. The stock has a market capitalization of $901.56, a P/E ratio of 27.05, a P/E/G ratio of 1.93 and a beta of 0.66.
Several equities analysts recently issued reports on the company. Keefe, Bruyette & Woods reiterated a "market perform" rating and issued a $35.00 price objective on shares of National Bank in a research report on Friday, October 20th.
Zacks Investment Research
lowered National Bank from a "hold" rating to a "strong sell" rating in a research report on Tuesday, October 24th. BidaskClub lowered National Bank from a "buy" rating to a "hold" rating in a research report on Tuesday, October 17th. Finally, Hovde Group set a $35.00 price objective on National Bank and gave the company a "hold" rating in a research report on Wednesday, January 3rd. One equities research analyst has rated the stock with a sell rating, five have issued a hold rating and two have given a buy rating to the company's stock. The company currently has a consensus rating of "Hold" and an average price target of $35.83.
In other National Bank news, Director Robert E. Dean sold 3,076 shares of the business's stock in a transaction that occurred on Monday, December 4th. The stock was sold at an average price of $33.74, for a total value of $103,784.24. Following the sale, the director now owns 22,910 shares in the company, valued at approximately $772,983.40. The transaction was disclosed in a document filed with the Securities & Exchange Commission, which is available at this hyperlink. Insiders own 7.60% of the company's stock.
COPYRIGHT VIOLATION WARNING: This article was posted by American Banking News and is the property of of American Banking News. If you are reading this article on another domain, it was stolen and republished in violation of U.S. & international copyright and trademark laws. The original version of this article can be accessed at https://www.americanbankingnews.com/2018/01/18/national-bank-nbhc-set-to-announce-earnings-on-thursday.html.
About National Bank
National Bank Holdings Corporation (NBH) is a bank holding company. Through Bank Midwest, N.A. (Bank Midwest), NBH's primary business is to offer a range of products and financial services to both its commercial and consumer customers, located in Kansas, Missouri and Colorado. The Company offers an array of lending products to cater to the customers' needs, including, but not limited to, small business loans, equipment loans, term loans, asset-backed loans, letters of credit, commercial lines of credit, residential mortgage loans, home equity and consumer loans.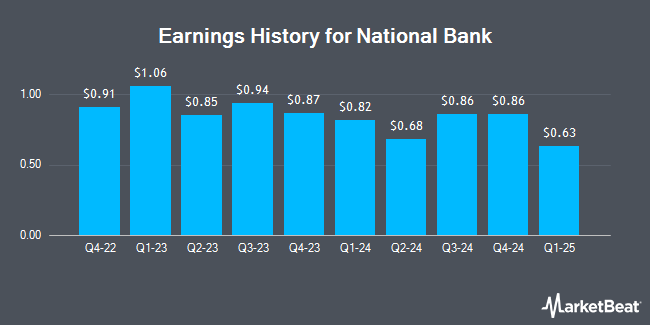 Receive News & Ratings for National Bank Daily - Enter your email address below to receive a concise daily summary of the latest news and analysts' ratings for National Bank and related companies with MarketBeat.com's FREE daily email newsletter.