Phillips 66 Partners LP (NYSE:PSXP) declared a quarterly dividend on Thursday, January 18th, Wall Street Journal reports. Stockholders of record on Wednesday, January 31st will be given a dividend of 0.678 per share by the oil and gas company on Tuesday, February 13th. This represents a $2.71 dividend on an annualized basis and a dividend yield of 4.96%. The ex-dividend date of this dividend is Tuesday, January 30th. This is a positive change from Phillips 66 Partners's previous quarterly dividend of $0.65.
Phillips 66 Partners has increased its dividend payment by an average of 29.1% annually over the last three years and has raised its dividend annually for the last 4 consecutive years. Phillips 66 Partners has a dividend payout ratio of 99.6% indicating that its dividend is currently covered by earnings, but may not be in the future if the company's earnings tumble. Equities research analysts expect Phillips 66 Partners to earn $3.26 per share next year, which means the company should continue to be able to cover its $2.58 annual dividend with an expected future payout ratio of 79.1%.
Shares of Phillips 66 Partners (PSXP) traded down $1.02 during trading hours on Thursday, reaching $54.71. The company's stock had a trading volume of 169,700 shares, compared to its average volume of 329,209. The stock has a market capitalization of $6,775.21, a PE ratio of 23.08, a price-to-earnings-growth ratio of 1.42 and a beta of 1.46. Phillips 66 Partners has a 1-year low of $44.40 and a 1-year high of $58.00. The company has a quick ratio of 0.56, a current ratio of 0.64 and a debt-to-equity ratio of 1.28.
Phillips 66 Partners (NYSE:PSXP) last announced its quarterly earnings data on Friday, October 27th. The oil and gas company reported $0.51 earnings per share (EPS) for the quarter, missing the Zacks' consensus estimate of $0.59 by ($0.08). The company had revenue of $245.00 million for the quarter, compared to analysts' expectations of $236.18 million. Phillips 66 Partners had a net margin of 42.19% and a return on equity of 23.56%. The firm's quarterly revenue was up 69.8% compared to the same quarter last year. During the same quarter in the previous year, the firm posted $0.57 EPS. sell-side analysts predict that Phillips 66 Partners will post 2.59 EPS for the current fiscal year.
A number of research firms have commented on PSXP. Barclays lowered Phillips 66 Partners from an "overweight" rating to an "equal weight" rating and set a $59.00 target price for the company. in a report on Wednesday. BidaskClub raised Phillips 66 Partners from a "sell" rating to a "hold" rating in a report on Tuesday, October 31st. Jefferies Group reissued a "hold" rating and issued a $51.00 target price on shares of Phillips 66 Partners in a report on Monday, October 16th. Stifel Nicolaus reissued a "buy" rating and issued a $60.00 target price (down previously from $61.00) on shares of Phillips 66 Partners in a report on Monday, September 25th. Finally, Goldman Sachs Group raised Phillips 66 Partners from a "sell" rating to a "neutral" rating and set a $59.00 target price for the company in a report on Tuesday, October 17th. Six investment analysts have rated the stock with a hold rating and seven have assigned a buy rating to the stock. The company presently has a consensus rating of "Buy" and an average price target of $58.30.
A hedge fund recently raised its stake in Phillips 66 Partners stock. The Manufacturers Life Insurance Company raised its stake in shares of Phillips 66 Partners LP (NYSE:PSXP) by 7.5% in the 2nd quarter, according to its most recent disclosure with the SEC. The firm owned 3,342 shares of the oil and gas company's stock after purchasing an additional 234 shares during the period. The Manufacturers Life Insurance Company 's holdings in Phillips 66 Partners were worth $165,000 as of its most recent SEC filing. 37.16% of the stock is owned by hedge funds and other institutional investors.
COPYRIGHT VIOLATION WARNING: "Phillips 66 Partners LP (PSXP) Increases Dividend to $0.68 Per Share" was published by American Banking News and is owned by of American Banking News. If you are reading this report on another publication, it was illegally stolen and reposted in violation of U.S. & international trademark and copyright law. The correct version of this report can be read at https://www.americanbankingnews.com/2018/01/18/phillips-66-partners-lp-psxp-increases-dividend-to-0-68-per-share.html.
About Phillips 66 Partners
Phillips 66 Partners LP (Phillips 66) owns, operates, develops and acquires fee-based crude oil, refined petroleum product and natural gas liquids (NGL) pipelines, terminals and other transportation and midstream assets. The Company's assets consist of systems, such as Clifton Ridge Crude System, Eagle Ford Gathering System, Ponca Crude System, Billings Crude System, Borger Crude System, Sweeny to Pasadena Products System, Hartford Connector Products System, Gold Line Products System, Cross-Channel Connector Products System, Ponca Products System, Billings Products System, Bayway Products System, Standish Pipeline, Borger Products System, River Parish NGL System, Medford Spheres, Bayway Rail Rack, Ferndale Rail Rack, Sand Hills/Southern Hills Joint Ventures, Explorer Pipeline Joint Venture, Bakken Joint Ventures, Bayou Bridge Pipeline Joint Venture, STACK Pipeline Joint Venture, and Sweeny Fractionator and Clemens Caverns.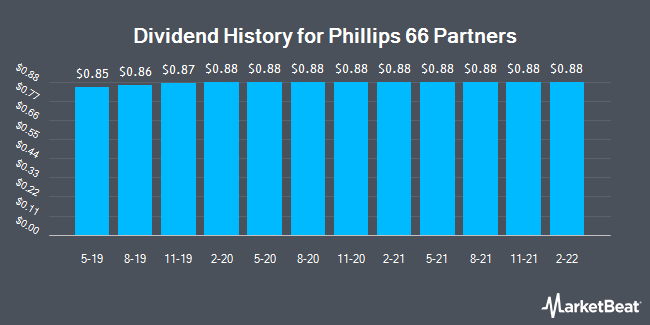 Receive News & Ratings for Phillips 66 Partners Daily - Enter your email address below to receive a concise daily summary of the latest news and analysts' ratings for Phillips 66 Partners and related companies with MarketBeat.com's FREE daily email newsletter.