PPG Industries (PPG) Posts Quarterly Earnings Results, Misses Estimates By $0.07 EPS
PPG Industries (NYSE:PPG) posted its earnings results on Wednesday. The specialty chemicals company reported $1.19 earnings per share (EPS) for the quarter, missing the Thomson Reuters' consensus estimate of $1.26 by ($0.07), Bloomberg Earnings reports. PPG Industries had a net margin of 12.21% and a return on equity of 27.85%. The business had revenue of $3.68 billion for the quarter, compared to analysts' expectations of $3.61 billion. During the same period last year, the firm posted $1.19 earnings per share. PPG Industries's quarterly revenue was up 7.8% on a year-over-year basis.
Shares of PPG Industries (NYSE PPG) traded down $2.14 during mid-day trading on Thursday, reaching $114.50. The company had a trading volume of 3,855,000 shares, compared to its average volume of 1,517,354. The stock has a market capitalization of $30,080.00, a PE ratio of 22.81, a price-to-earnings-growth ratio of 2.09 and a beta of 1.60. PPG Industries has a 12 month low of $95.66 and a 12 month high of $119.85. The company has a debt-to-equity ratio of 0.68, a quick ratio of 1.26 and a current ratio of 1.65.
The company also recently declared a quarterly dividend, which will be paid on Monday, March 12th. Investors of record on Friday, February 16th will be paid a $0.45 dividend. This represents a $1.80 annualized dividend and a yield of 1.57%. PPG Industries's payout ratio is 35.86%.
Several equities analysts have recently issued reports on the company. Royal Bank of Canada reissued a "hold" rating and set a $115.00 target price on shares of PPG Industries in a research note on Wednesday. Atlantic Securities cut PPG Industries from an "overweight" rating to a "neutral" rating in a research note on Wednesday.
Zacks Investment Research
raised PPG Industries from a "sell" rating to a "hold" rating in a research note on Thursday, January 4th. Jefferies Group reissued a "buy" rating and set a $135.00 target price on shares of PPG Industries in a research note on Wednesday, January 3rd. Finally, Raymond James Financial assumed coverage on PPG Industries in a research note on Tuesday, December 19th. They set an "outperform" rating and a $139.00 target price on the stock. Ten analysts have rated the stock with a hold rating and seven have issued a buy rating to the stock. The company presently has an average rating of "Hold" and an average target price of $123.40.
PPG Industries announced that its Board of Directors has authorized a stock buyback program on Thursday, December 14th that permits the company to repurchase $2.50 billion in outstanding shares. This repurchase authorization permits the specialty chemicals company to purchase shares of its stock through open market purchases. Shares repurchase programs are usually an indication that the company's leadership believes its shares are undervalued.
COPYRIGHT VIOLATION WARNING: "PPG Industries (PPG) Posts Quarterly Earnings Results, Misses Estimates By $0.07 EPS" was originally published by American Banking News and is the property of of American Banking News. If you are viewing this piece on another publication, it was stolen and republished in violation of international copyright and trademark law. The original version of this piece can be viewed at https://www.americanbankingnews.com/2018/01/18/ppg-industries-ppg-posts-quarterly-earnings-results-misses-estimates-by-0-07-eps.html.
About PPG Industries
PPG Industries, Inc manufactures and distributes a range of coatings and specialty materials. The Company has two segments: Performance Coatings and Industrial Coatings. The Performance Coatings segment includes the refinish, aerospace, protective and marine, architectural businesses. The Industrial Coatings segment includes the automotive original equipment manufacturer (OEM), industrial coatings, packaging coatings, coatings services and specialty coatings and materials businesses.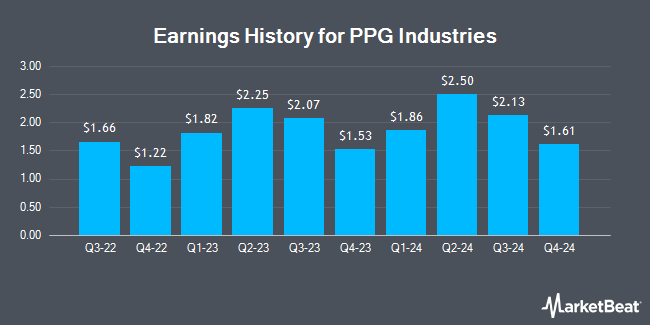 Receive News & Ratings for PPG Industries Daily - Enter your email address below to receive a concise daily summary of the latest news and analysts' ratings for PPG Industries and related companies with MarketBeat.com's FREE daily email newsletter.