Provident Financial (NASDAQ:PROV) will be issuing its quarterly earnings data before the market opens on Thursday, January 25th. Analysts expect the company to announce earnings of $0.20 per share for the quarter.
Provident Financial (NASDAQ:PROV) last announced its earnings results on Thursday, October 26th. The financial services provider reported $0.17 EPS for the quarter, missing analysts' consensus estimates of $0.21 by ($0.04). Provident Financial had a net margin of 4.82% and a return on equity of 3.84%. The firm had revenue of $15.47 million for the quarter, compared to analyst estimates of $16.70 million. During the same period in the previous year, the company earned $0.20 EPS.
Provident Financial (NASDAQ PROV) opened at $18.90 on Thursday. Provident Financial has a fifty-two week low of $17.62 and a fifty-two week high of $20.35. The company has a market capitalization of $143.06 and a P/E ratio of 46.10. The company has a current ratio of 1.15, a quick ratio of 1.01 and a debt-to-equity ratio of 0.97.
In other Provident Financial news, SVP Lilian Brunner-Salter sold 9,000 shares of the stock in a transaction that occurred on Monday, October 30th. The stock was sold at an average price of $19.17, for a total transaction of $172,530.00. The sale was disclosed in a legal filing with the Securities & Exchange Commission, which is available at
this hyperlink
. Also, Director Roy Taylor sold 10,212 shares of the stock in a transaction that occurred on Wednesday, November 8th. The shares were sold at an average price of $19.03, for a total value of $194,334.36. The disclosure for this sale can be found
here
. Insiders have sold 20,382 shares of company stock valued at $389,126 in the last three months. Insiders own 12.74% of the company's stock.
An institutional investor recently raised its position in Provident Financial stock. State Street Corp raised its position in shares of Provident Financial Holdings, Inc. (NASDAQ:PROV) by 11.8% in the second quarter, according to its most recent Form 13F filing with the Securities and Exchange Commission (SEC). The fund owned 93,510 shares of the financial services provider's stock after acquiring an additional 9,890 shares during the quarter. State Street Corp owned approximately 1.21% of Provident Financial worth $1,801,000 as of its most recent SEC filing. Institutional investors own 60.16% of the company's stock.
TRADEMARK VIOLATION WARNING: "Provident Financial (PROV) to Release Quarterly Earnings on Thursday" was first published by American Banking News and is the property of of American Banking News. If you are accessing this article on another site, it was copied illegally and republished in violation of U.S. and international trademark and copyright law. The correct version of this article can be viewed at https://www.americanbankingnews.com/2018/01/18/provident-financial-prov-to-release-quarterly-earnings-on-thursday.html.
Provident Financial Company Profile
Provident Financial Holdings, Inc is the holding company of Provident Savings Bank, F.S.B. (the Bank). The Bank is a federally chartered stock savings bank. The Company operates through two segments: Provident Bank and Provident Bank Mortgage (PBM). The Bank's operations primarily consist of accepting deposits from customers within the communities surrounding the Bank's full service offices and investing those funds in single-family loans, multi-family loans, commercial real estate loans, construction loans, commercial business loans, consumer loans and other mortgage loans.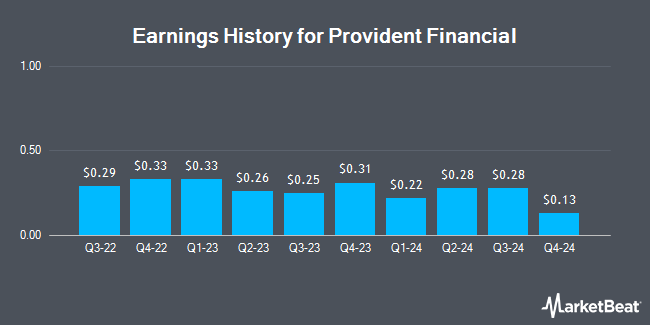 Receive News & Ratings for Provident Financial Daily - Enter your email address below to receive a concise daily summary of the latest news and analysts' ratings for Provident Financial and related companies with MarketBeat.com's FREE daily email newsletter.