Severn Bancorp (SVBI) Scheduled to Post Earnings on Thursday
Severn Bancorp (NASDAQ:SVBI) will post its quarterly earnings results on Thursday, January 25th.
Severn Bancorp (NASDAQ:SVBI) last posted its quarterly earnings data on Friday, October 27th. The bank reported $0.09 earnings per share for the quarter. The company had revenue of $7.73 million during the quarter. Severn Bancorp had a net margin of 10.48% and a return on equity of 4.30%.
Severn Bancorp (NASDAQ SVBI) opened at $7.85 on Thursday. The company has a debt-to-equity ratio of 1.19, a current ratio of 1.15 and a quick ratio of 1.14. The firm has a market cap of $91.84, a PE ratio of 26.17 and a beta of 0.87. Severn Bancorp has a 12-month low of $6.70 and a 12-month high of $7.90.
Separately, TheStreet raised shares of Severn Bancorp from a "c" rating to a "b-" rating in a research report on Wednesday, December 13th.
COPYRIGHT VIOLATION NOTICE: This news story was originally published by American Banking News and is owned by of American Banking News. If you are accessing this news story on another domain, it was illegally stolen and republished in violation of US & international trademark & copyright legislation. The correct version of this news story can be accessed at https://www.americanbankingnews.com/2018/01/18/severn-bancorp-svbi-scheduled-to-post-earnings-on-thursday.html.
About Severn Bancorp
Severn Bancorp, Inc is a savings and loan holding company. The Company conducts business through its subsidiaries, Severn Savings Bank, FSB (the Bank) and SBI Mortgage Company (SBI). The Bank offers a range of deposit products and originates mortgages in its market of Anne Arundel County, Maryland and in other parts of Maryland, Delaware and Virginia.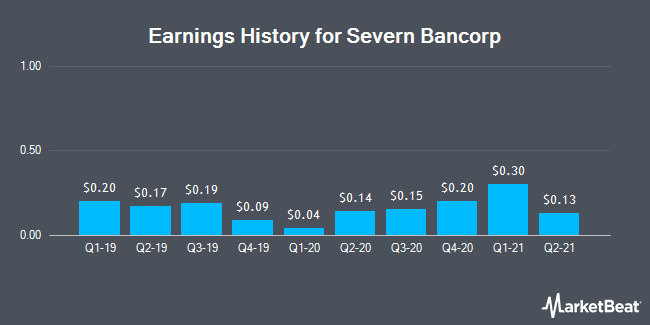 Receive News & Ratings for Severn Bancorp Daily - Enter your email address below to receive a concise daily summary of the latest news and analysts' ratings for Severn Bancorp and related companies with MarketBeat.com's FREE daily email newsletter.