American Capital Senior Floating Ltd (NASDAQ:ACSF) declared a monthly dividend on Friday, January 19th, Wall Street Journal reports. Stockholders of record on Thursday, April 19th will be given a dividend of 0.097 per share by the asset manager on Wednesday, May 2nd. This represents a $1.16 annualized dividend and a dividend yield of 10.35%. The ex-dividend date of this dividend is Wednesday, April 18th.
American Capital Senior Floating (NASDAQ:ACSF) traded up $0.10 during midday trading on Friday, hitting $11.25. The stock had a trading volume of 50,548 shares, compared to its average volume of 38,215. The company has a debt-to-equity ratio of 0.79, a quick ratio of 2.68 and a current ratio of 2.68. The stock has a market cap of $111.50, a price-to-earnings ratio of 5.31 and a beta of 1.28. American Capital Senior Floating has a fifty-two week low of $10.35 and a fifty-two week high of $14.10.
WARNING: "American Capital Senior Floating Ltd (ACSF) to Issue $0.10 Monthly Dividend" was first reported by American Banking News and is the property of of American Banking News. If you are accessing this news story on another publication, it was illegally copied and republished in violation of U.S. and international trademark & copyright laws. The original version of this news story can be read at https://www.americanbankingnews.com/2018/01/19/american-capital-senior-floating-ltd-acsf-to-issue-0-10-monthly-dividend.html.
American Capital Senior Floating Company Profile
American Capital Senior Floating, Ltd. is a non-diversified closed-end investment management company. The Company's investment objective is to provide attractive, risk-adjusted returns over the long term primarily through current income while seeking to preserve its capital. It manages a leveraged portfolio composed primarily of diversified investments in first lien and second lien floating rate loans principally to the United States-based companies (collectively, Senior Floating Rate Loans or SFRLs), which are referred to as leveraged loans.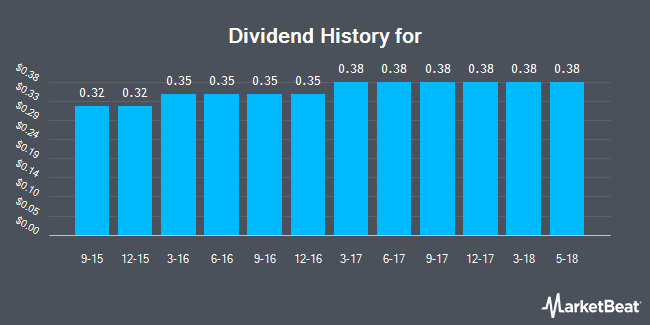 Receive News & Ratings for American Capital Senior Floating Daily - Enter your email address below to receive a concise daily summary of the latest news and analysts' ratings for American Capital Senior Floating and related companies with MarketBeat.com's FREE daily email newsletter.