BancFirst (BANF) Announces Quarterly Earnings Results, Misses Expectations By $0.04 EPS
BancFirst (NASDAQ:BANF) released its quarterly earnings data on Thursday. The bank reported $0.66 earnings per share for the quarter, missing the consensus estimate of $0.70 by ($0.04), Yahoo Finance reports. The business had revenue of $91.53 million during the quarter, compared to analyst estimates of $86.53 million. BancFirst had a net margin of 24.35% and a return on equity of 11.59%.
BancFirst (NASDAQ:BANF) traded up $0.95 during trading on Friday, reaching $55.20. The company's stock had a trading volume of 48,400 shares, compared to its average volume of 63,600. The company has a quick ratio of 1.02, a current ratio of 1.02 and a debt-to-equity ratio of 0.04. The company has a market capitalization of $1,728.95, a P/E ratio of 20.91, a PEG ratio of 1.73 and a beta of 0.56. BancFirst has a 1 year low of $42.50 and a 1 year high of $61.05.
The company also recently announced a quarterly dividend, which was paid on Monday, January 15th. Shareholders of record on Friday, December 29th were given a $0.21 dividend. The ex-dividend date was Thursday, December 28th. This represents a $0.84 annualized dividend and a yield of 1.52%. BancFirst's dividend payout ratio is presently 31.82%.
Several research firms recently weighed in on BANF. BidaskClub raised BancFirst from a "strong sell" rating to a "sell" rating in a research note on Thursday, January 11th.
Zacks Investment Research
downgraded BancFirst from a "buy" rating to a "hold" rating in a research report on Tuesday, October 24th.
In other news, major shareholder Banking Ltd Ptnrshp R sold 10,700 shares of the firm's stock in a transaction dated Tuesday, December 5th. The stock was sold at an average price of $56.38, for a total transaction of $603,266.00. Following the completion of the transaction, the insider now directly owns 10,989,300 shares in the company, valued at $619,576,734. The sale was disclosed in a filing with the Securities & Exchange Commission, which is available through this hyperlink. Also, Director H E. Rainbolt acquired 500 shares of the stock in a transaction dated Monday, December 11th. The shares were bought at an average price of $53.75 per share, with a total value of $26,875.00. Following the completion of the transaction, the director now directly owns 606 shares of the company's stock, valued at $32,572.50. The disclosure for this purchase can be found here. Insiders sold 18,741 shares of company stock valued at $1,051,262 over the last quarter. Corporate insiders own 42.32% of the company's stock.
ILLEGAL ACTIVITY WARNING: This news story was originally published by American Banking News and is the sole property of of American Banking News. If you are reading this news story on another domain, it was copied illegally and reposted in violation of U.S. & international copyright & trademark legislation. The legal version of this news story can be read at https://www.americanbankingnews.com/2018/01/19/bancfirst-banf-announces-quarterly-earnings-results-misses-expectations-by-0-04-eps.html.
About BancFirst
BancFirst Corporation is a financial holding company. The Company conducts its operating activities through its principal subsidiary, BancFirst (the Bank), a state-chartered bank. It has four business units, which include metropolitan banks, community banks, other financial services, and executive, operations and support.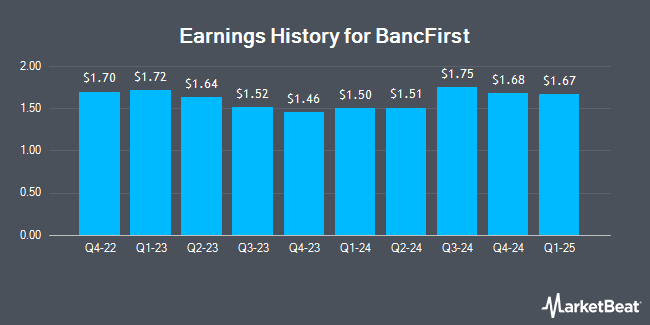 Receive News & Ratings for BancFirst Daily - Enter your email address below to receive a concise daily summary of the latest news and analysts' ratings for BancFirst and related companies with MarketBeat.com's FREE daily email newsletter.