Bassett Furniture Industries (NASDAQ:BSET) issued its earnings results on Thursday. The company reported $0.46 EPS for the quarter, missing the Thomson Reuters' consensus estimate of $0.52 by ($0.06), RTT News reports. Bassett Furniture Industries had a net margin of 4.01% and a return on equity of 9.73%. The firm had revenue of $118.23 million during the quarter, compared to the consensus estimate of $118.22 million. During the same period in the previous year, the company posted $0.47 EPS.
Shares of Bassett Furniture Industries (BSET) opened at $35.55 on Friday. Bassett Furniture Industries has a 12-month low of $24.90 and a 12-month high of $41.30. The stock has a market cap of $390.77, a price-to-earnings ratio of 20.79 and a beta of 1.05.
The business also recently disclosed a quarterly dividend, which will be paid on Friday, February 23rd. Stockholders of record on Friday, February 9th will be given a dividend of $0.11 per share. This represents a $0.44 annualized dividend and a dividend yield of 1.24%. The ex-dividend date of this dividend is Thursday, February 8th. Bassett Furniture Industries's dividend payout ratio is 25.73%.
In other news, insider Jay R. Hervey sold 650 shares of the stock in a transaction on Thursday, November 16th. The shares were sold at an average price of $39.19, for a total transaction of $25,473.50. The sale was disclosed in a filing with the Securities & Exchange Commission, which is available at
this link
. 6.40% of the stock is owned by corporate insiders.
Several equities research analysts have recently issued reports on the stock. BidaskClub downgraded shares of Bassett Furniture Industries from a "sell" rating to a "strong sell" rating in a research report on Saturday, January 6th. Zacks Investment Research raised shares of Bassett Furniture Industries from a "hold" rating to a "buy" rating and set a $45.00 price objective for the company in a research report on Thursday, December 28th. ValuEngine downgraded shares of Bassett Furniture Industries from a "buy" rating to a "hold" rating in a research report on Friday, December 1st. Finally, Stifel Nicolaus reissued a "hold" rating and set a $39.00 price objective (up previously from $36.00) on shares of Bassett Furniture Industries in a research report on Saturday, September 30th.
ILLEGAL ACTIVITY NOTICE: This story was originally published by American Banking News and is the sole property of of American Banking News. If you are reading this story on another publication, it was illegally copied and reposted in violation of U.S. and international copyright & trademark law. The legal version of this story can be viewed at https://www.americanbankingnews.com/2018/01/19/bassett-furniture-industries-bset-announces-quarterly-earnings-results.html.
Bassett Furniture Industries Company Profile
Bassett Furniture Industries, Incorporated is a manufacturer, importer and retailer of home furnishings. The Company's segments include Wholesale, Retail – Company-owned stores and Logistical services. Its wholesale home furnishings segment is involved in the design, manufacture, sourcing, sale and distribution of furniture products to a network of Bassett stores (licensee-owned stores and Company-owned stores) and independent furniture retailers.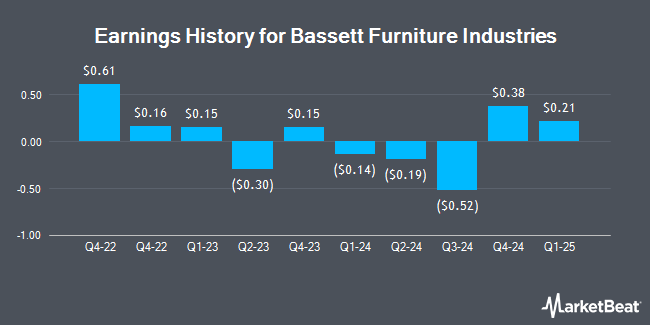 Receive News & Ratings for Bassett Furniture Industries Daily - Enter your email address below to receive a concise daily summary of the latest news and analysts' ratings for Bassett Furniture Industries and related companies with MarketBeat.com's FREE daily email newsletter.