Fair Isaac (NYSE:FICO) is scheduled to issue its quarterly earnings data after the market closes on Thursday, January 25th. Analysts expect the company to announce earnings of $0.71 per share for the quarter. Fair Isaac has set its FY18 guidance at $5.32 EPS.
Fair Isaac (NYSE:FICO) last released its quarterly earnings data on Wednesday, November 1st. The technology company reported $1.65 EPS for the quarter, topping the Thomson Reuters' consensus estimate of $1.17 by $0.48. Fair Isaac had a return on equity of 30.03% and a net margin of 13.76%. The business had revenue of $253.21 million for the quarter, compared to analyst estimates of $249.11 million. During the same quarter in the prior year, the firm posted $1.28 EPS. The business's quarterly revenue was up 7.4% compared to the same quarter last year. On average, analysts expect Fair Isaac to post $4 EPS for the current fiscal year and $5 EPS for the next fiscal year.
Fair Isaac (NYSE:FICO) traded up $2.25 during trading on Friday, reaching $163.45. The company's stock had a trading volume of 195,303 shares, compared to its average volume of 142,954. The company has a current ratio of 0.95, a quick ratio of 0.95 and a debt-to-equity ratio of 1.09. Fair Isaac has a 1-year low of $119.54 and a 1-year high of $164.76. The stock has a market cap of $4,868.01, a price-to-earnings ratio of 41.17, a PEG ratio of 4.40 and a beta of 1.26.
Several research firms have commented on FICO. BidaskClub lowered Fair Isaac from a "buy" rating to a "hold" rating in a research report on Tuesday, October 31st.
Zacks Investment Research
lowered Fair Isaac from a "strong-buy" rating to a "hold" rating in a research report on Wednesday, January 3rd. Finally, Barclays restated a "hold" rating and issued a $150.00 price objective on shares of Fair Isaac in a research report on Friday, December 15th.
In other Fair Isaac news, Director A George Battle sold 5,000 shares of the company's stock in a transaction that occurred on Friday, November 3rd. The stock was sold at an average price of $150.46, for a total value of $752,300.00. Following the sale, the director now owns 21,259 shares in the company, valued at approximately $3,198,629.14. The transaction was disclosed in a legal filing with the SEC, which is available at the SEC website. Also, Director Joanna Rees acquired 3,000 shares of the stock in a transaction on Thursday, November 9th. The stock was bought at an average price of $152.00 per share, for a total transaction of $456,000.00. Following the transaction, the director now owns 4,989 shares in the company, valued at approximately $758,328. The disclosure for this purchase can be found here. Corporate insiders own 5.60% of the company's stock.
ILLEGAL ACTIVITY NOTICE: "Fair Isaac (FICO) Set to Announce Quarterly Earnings on Thursday" was originally reported by American Banking News and is owned by of American Banking News. If you are accessing this article on another site, it was stolen and republished in violation of US and international trademark & copyright laws. The original version of this article can be read at https://www.americanbankingnews.com/2018/01/19/fair-isaac-fico-set-to-announce-quarterly-earnings-on-thursday.html.
About Fair Isaac
Fair Isaac Corporation (FICO) is a provider of analytic, software and data management products and services that enable businesses to automate and connect decisions. The Company operates through three segments: Applications, Scores and Decision Management Software. The Applications segment includes pre-configured decision management applications designed for a specific type of business problem or process, such as marketing, account origination, customer management, fraud, collections and insurance claims management.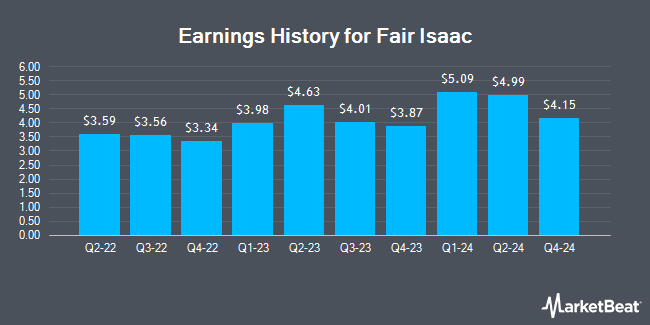 Receive News & Ratings for Fair Isaac Daily - Enter your email address below to receive a concise daily summary of the latest news and analysts' ratings for Fair Isaac and related companies with MarketBeat.com's FREE daily email newsletter.