Kinross Gold (TSE:K) (NYSE:KGC) had its target price increased by analysts at Canaccord Genuity from C$9.25 to C$10.50 in a research report issued on Friday. Canaccord Genuity's price target suggests a potential upside of 99.24% from the company's current price.
K has been the topic of a number of other reports. Eight Capital reiterated a "neutral" rating on shares of Kinross Gold in a report on Thursday, November 16th. Macquarie upped their price objective on Kinross Gold from C$6.00 to C$7.00 and gave the company an "outperform" rating in a report on Monday, November 13th. Finally, Desjardins reiterated a "sell" rating on shares of Kinross Gold in a report on Monday, December 11th. Two research analysts have rated the stock with a sell rating, two have issued a hold rating, five have issued a buy rating and one has issued a strong buy rating to the company. The company currently has a consensus rating of "Buy" and an average price target of C$6.46.
Kinross Gold (K) traded down C$0.16 during mid-day trading on Friday, hitting C$5.27. The stock had a trading volume of 3,010,736 shares, compared to its average volume of 2,887,619. The stock has a market capitalization of $6,600.00, a price-to-earnings ratio of 47.91 and a beta of -0.30. Kinross Gold has a 1-year low of C$4.24 and a 1-year high of C$6.29.
Kinross Gold (TSE:K) (NYSE:KGC) last posted its quarterly earnings results on Wednesday, November 8th. The company reported C$0.09 earnings per share (EPS) for the quarter, beating analysts' consensus estimates of C$0.03 by C$0.06. Kinross Gold had a return on equity of 5.54% and a net margin of 7.26%.
TRADEMARK VIOLATION NOTICE: "Kinross Gold (K) Price Target Raised to C$10.50" was originally published by American Banking News and is owned by of American Banking News. If you are accessing this story on another website, it was illegally copied and republished in violation of United States and international copyright laws. The correct version of this story can be viewed at https://www.americanbankingnews.com/2018/01/19/kinross-gold-k-price-target-raised-to-c10-50.html.
About Kinross Gold
Kinross Gold Corporation, together with its subsidiaries, engages in the acquisition, exploration, and development of gold properties. The company's gold production and exploration activities are carried out principally in Canada, the United States, the Russian Federation, Brazil, Chile, Ghana, and Mauritania.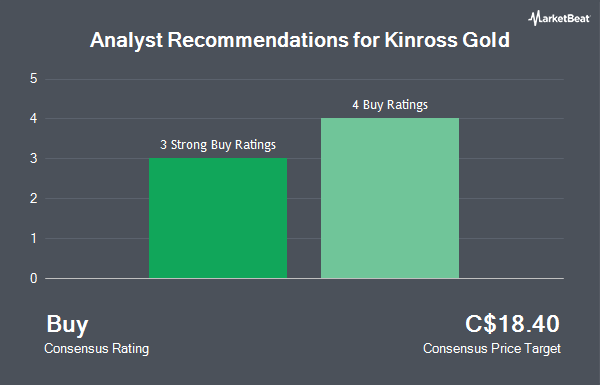 Receive News & Ratings for Kinross Gold Daily - Enter your email address below to receive a concise daily summary of the latest news and analysts' ratings for Kinross Gold and related companies with MarketBeat.com's FREE daily email newsletter.