AZZ (NYSE:AZZ) is set to issue its quarterly earnings data before the market opens on Monday, January 22nd. Analysts expect the company to announce earnings of $0.51 per share for the quarter.
Shares of AZZ (NYSE AZZ) traded up $0.50 during trading hours on Friday, hitting $47.40. The stock had a trading volume of 158,629 shares, compared to its average volume of 168,440. AZZ has a 52 week low of $43.17 and a 52 week high of $61.55. The firm has a market capitalization of $1,230.00, a price-to-earnings ratio of 24.06 and a beta of 1.55. The company has a debt-to-equity ratio of 0.53, a quick ratio of 1.43 and a current ratio of 2.57.
AZZ has been the subject of a number of research reports. Stifel Nicolaus lowered their target price on AZZ from $56.00 to $52.00 and set a "hold" rating for the company in a research note on Wednesday, September 27th. Zacks Investment Research cut AZZ from a "hold" rating to a "strong sell" rating in a report on Thursday, September 28th.
WARNING: This report was first posted by American Banking News and is owned by of American Banking News. If you are reading this report on another website, it was copied illegally and reposted in violation of US & international copyright and trademark law. The original version of this report can be accessed at https://www.americanbankingnews.com/2018/01/20/azz-azz-scheduled-to-post-quarterly-earnings-on-monday.html.
About AZZ
AZZ Inc is a provider of galvanizing services, welding solutions, specialty electrical equipment and engineered services to the power generation, transmission, distribution, refining and industrial markets. The Company operates through two segments: Energy segment and Galvanizing segment. Its Energy segment provides products and services designed to support industrial, nuclear and electrical applications.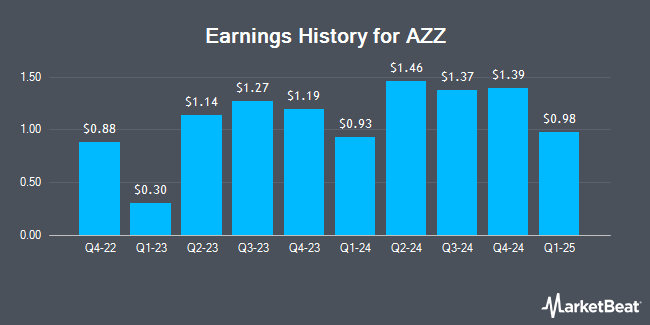 Receive News & Ratings for AZZ Daily - Enter your email address below to receive a concise daily summary of the latest news and analysts' ratings for AZZ and related companies with MarketBeat.com's FREE daily email newsletter.