Danone (OTCMKTS:DANOY) was upgraded by Credit Suisse Group from an "underperform" rating to a "hold" rating in a note issued to investors on Friday.
A number of other research firms have also recently issued reports on DANOY. Zacks Investment Research cut shares of Danone from a "buy" rating to a "hold" rating in a report on Tuesday, December 19th. Royal Bank of Canada upgraded shares of Danone from an "underperform" rating to a "sector perform" rating in a report on Wednesday, October 18th. Six analysts have rated the stock with a hold rating and one has issued a buy rating to the company. The stock presently has a consensus rating of "Hold" and an average target price of $19.00.
Shares of Danone (OTCMKTS:DANOY) traded up $0.20 during trading hours on Friday, reaching $17.25. 213,280 shares of the company were exchanged, compared to its average volume of 483,359. The company has a market capitalization of $57,380.00, a PE ratio of 23.96, a PEG ratio of 2.37 and a beta of 0.87. Danone has a 12-month low of $12.36 and a 12-month high of $17.35. The company has a debt-to-equity ratio of 1.41, a current ratio of 0.88 and a quick ratio of 0.72.
TRADEMARK VIOLATION NOTICE: "Credit Suisse Group Upgrades Danone (DANOY) to Hold" was posted by American Banking News and is the sole property of of American Banking News. If you are reading this news story on another domain, it was illegally copied and republished in violation of U.S. & international copyright and trademark legislation. The original version of this news story can be read at https://www.americanbankingnews.com/2018/01/20/credit-suisse-group-upgrades-danone-danoy-to-hold.html.
About Danone
Danone SA is engaged in holding directly or indirectly companies, and coordination of the main functions and activities. The Company operates through four segments: Fresh Dairy Products Division, Waters Division, Early Life Nutrition Division and Medical Nutrition Division. The Fresh Dairy Products Division produces and markets yogurts, fermented fresh dairy products and specialized dairy products.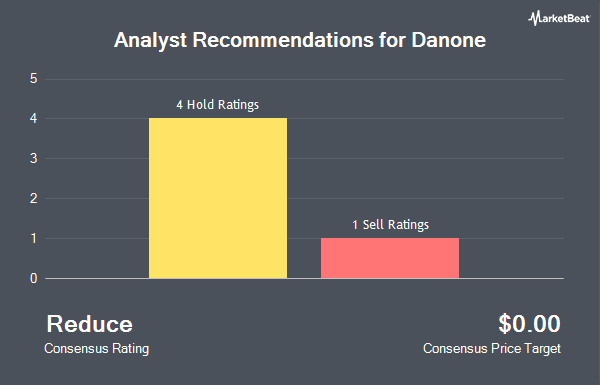 Receive News & Ratings for Danone Daily - Enter your email address below to receive a concise daily summary of the latest news and analysts' ratings for Danone and related companies with MarketBeat.com's FREE daily email newsletter.