First Busey Co. (NASDAQ:BUSE) announced a quarterly dividend on Tuesday, January 16th, NASDAQ reports. Investors of record on Friday, January 26th will be given a dividend of 0.20 per share by the bank on Friday, February 2nd. This represents a $0.80 annualized dividend and a dividend yield of 2.46%. The ex-dividend date of this dividend is Thursday, January 25th. This is a positive change from First Busey's previous quarterly dividend of $0.18.
Shares of First Busey (BUSE) opened at $32.56 on Friday. The company has a debt-to-equity ratio of 0.27, a quick ratio of 0.90 and a current ratio of 0.93. The stock has a market capitalization of $1,556.31, a P/E ratio of 21.28, a P/E/G ratio of 2.41 and a beta of 0.98. First Busey has a 52-week low of $27.33 and a 52-week high of $32.88.
First Busey (NASDAQ:BUSE) last issued its quarterly earnings data on Tuesday, October 24th. The bank reported $0.45 EPS for the quarter, missing the Zacks' consensus estimate of $0.46 by ($0.01). First Busey had a return on equity of 10.42% and a net margin of 22.02%. research analysts predict that First Busey will post 1.69 earnings per share for the current year.
A number of research analysts recently commented on BUSE shares.
Zacks Investment Research
upgraded First Busey from a "hold" rating to a "buy" rating and set a $35.00 price objective for the company in a research note on Monday, October 2nd. FBR & Co restated a "neutral" rating and set a $34.00 price objective (up from $32.00) on shares of First Busey in a research note on Wednesday, October 25th. BidaskClub downgraded First Busey from a "hold" rating to a "sell" rating in a research note on Saturday, December 30th. Piper Jaffray Companies restated a "hold" rating and set a $33.00 price objective on shares of First Busey in a research note on Tuesday, January 9th. Finally,
ValuEngine
downgraded First Busey from a "buy" rating to a "hold" rating in a research note on Friday, November 10th. Five equities research analysts have rated the stock with a hold rating and one has given a buy rating to the company. The company has a consensus rating of "Hold" and a consensus price target of $33.25.
In other news, Director George Barr sold 14,492 shares of the stock in a transaction on Monday, October 30th. The stock was sold at an average price of $31.30, for a total value of $453,599.60. Following the completion of the transaction, the director now owns 64,088 shares of the company's stock, valued at $2,005,954.40. The transaction was disclosed in a document filed with the SEC, which is available at the SEC website. Corporate insiders own 9.60% of the company's stock.
COPYRIGHT VIOLATION NOTICE: This story was originally reported by American Banking News and is the sole property of of American Banking News. If you are reading this story on another publication, it was stolen and republished in violation of United States & international trademark & copyright laws. The correct version of this story can be accessed at https://www.americanbankingnews.com/2018/01/20/first-busey-co-buse-declares-dividend-increase-0-20-per-share.html.
About First Busey
First Busey Corporation (First Busey) is a financial holding company. The Company offers a range of financial services through its banking and non-banking subsidiaries. The Company operates through three segments: Banking, Remittance Processing and Wealth Management. The Banking segment provides a range of banking services to individual and corporate customers through its branch network in downstate Illinois, St.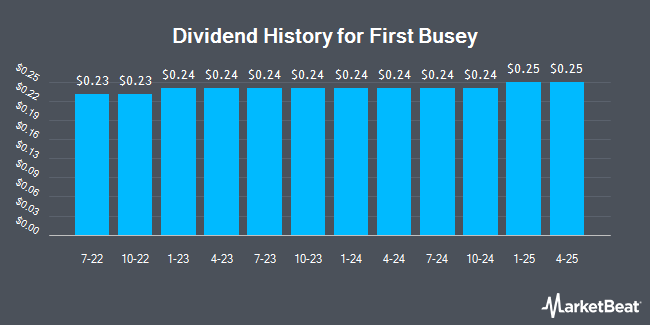 Receive News & Ratings for First Busey Daily - Enter your email address below to receive a concise daily summary of the latest news and analysts' ratings for First Busey and related companies with MarketBeat.com's FREE daily email newsletter.