Carlsberg A/S (OTCMKTS:CABGY) was upgraded by stock analysts at Deutsche Bank from a "hold" rating to a "buy" rating in a research report issued to clients and investors on Thursday, MarketBeat.com reports.
Several other equities research analysts have also weighed in on the stock. Zacks Investment Research lowered shares of Carlsberg A/S from a "buy" rating to a "sell" rating in a research note on Tuesday, November 7th. BNP Paribas cut shares of Carlsberg A/S from an "outperform" rating to a "neutral" rating in a research report on Thursday, September 21st. One research analyst has rated the stock with a sell rating, three have issued a hold rating and two have given a buy rating to the stock. Carlsberg A/S has an average rating of "Hold" and an average target price of $28.00.
Carlsberg A/S (OTCMKTS:CABGY) traded up $0.13 on Thursday, reaching $25.00. 72,289 shares of the company traded hands, compared to its average volume of 183,645. Carlsberg A/S has a 52-week low of $17.21 and a 52-week high of $25.02. The company has a current ratio of 0.56, a quick ratio of 0.44 and a debt-to-equity ratio of 0.40.
WARNING: "Carlsberg A/S (CABGY) Upgraded at Deutsche Bank" was posted by American Banking News and is the property of of American Banking News. If you are reading this report on another domain, it was copied illegally and reposted in violation of United States & international copyright and trademark legislation. The original version of this report can be viewed at https://www.americanbankingnews.com/2018/01/21/carlsberg-a-s-cabgy-upgraded-at-deutsche-bank.html.
Carlsberg A/S Company Profile
Carlsberg A/S is a Denmark-based company active within the brewing industry. It is primarily engaged in the production, marketing and sale of beer and soft drinks. The Company's portfolio consists of a range of beer and cider brands, including Carlsberg, Kronenbourg, Baltika, Somersby, Holsten, Tuborg, Lav and Lvivske, among others.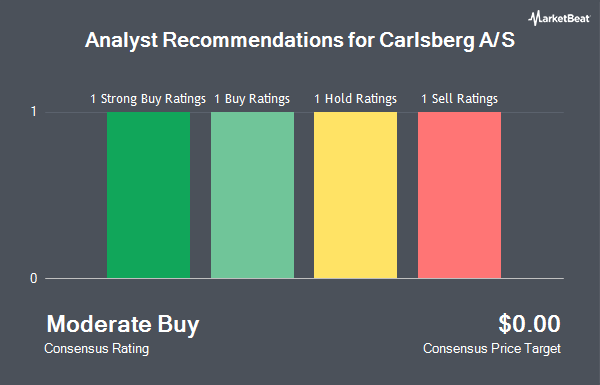 Receive News & Ratings for Carlsberg A/S Daily - Enter your email address below to receive a concise daily summary of the latest news and analysts' ratings for Carlsberg A/S and related companies with MarketBeat.com's FREE daily email newsletter.