Timken Co (NYSE:TKR) – Research analysts at KeyCorp lifted their FY2018 EPS estimates for shares of Timken in a note issued to investors on Thursday. KeyCorp analyst S. Barger now anticipates that the industrial products company will earn $3.32 per share for the year, up from their previous forecast of $3.06.
Several other research firms have also recently weighed in on TKR. Jefferies Group upgraded Timken from a "hold" rating to a "buy" rating in a research note on Thursday. Longbow Research upgraded Timken from a "neutral" rating to a "buy" rating in a research note on Tuesday, January 2nd. Finally, Zacks Investment Research cut Timken from a "buy" rating to a "hold" rating in a research note on Wednesday, September 27th. One analyst has rated the stock with a sell rating, three have given a hold rating and three have issued a buy rating to the stock. Timken currently has an average rating of "Hold" and an average price target of $52.00.
Shares of Timken (
NYSE:TKR
) opened at $55.25 on Monday. The firm has a market capitalization of $4,288.35, a P/E ratio of 22.01, a P/E/G ratio of 1.51 and a beta of 1.50. Timken has a 52 week low of $41.78 and a 52 week high of $55.35. The company has a debt-to-equity ratio of 0.66, a quick ratio of 1.38 and a current ratio of 2.59.
Timken (NYSE:TKR) last announced its quarterly earnings data on Wednesday, October 25th. The industrial products company reported $0.71 earnings per share (EPS) for the quarter, beating the consensus estimate of $0.68 by $0.03. The business had revenue of $771.40 million during the quarter, compared to analysts' expectations of $758.91 million. Timken had a return on equity of 13.75% and a net margin of 6.88%. The business's quarterly revenue was up 17.3% compared to the same quarter last year. During the same quarter last year, the business posted $0.53 EPS.
In related news, insider Richard G. Kyle sold 9,242 shares of the business's stock in a transaction that occurred on Thursday, November 30th. The stock was sold at an average price of $49.75, for a total transaction of $459,789.50. Following the completion of the sale, the insider now owns 89,236 shares in the company, valued at $4,439,491. The transaction was disclosed in a document filed with the SEC, which is available through the SEC website. 11.08% of the stock is owned by insiders.
Hedge funds and other institutional investors have recently modified their holdings of the business. Contravisory Investment Management Inc. purchased a new stake in Timken in the fourth quarter valued at approximately $148,000. Advisor Group Inc. lifted its stake in Timken by 19.7% in the second quarter. Advisor Group Inc. now owns 4,051 shares of the industrial products company's stock valued at $187,000 after buying an additional 666 shares during the last quarter. State of Alaska Department of Revenue purchased a new stake in Timken in the fourth quarter valued at approximately $201,000. Creative Planning purchased a new stake in Timken in the fourth quarter valued at approximately $210,000. Finally, FDx Advisors Inc. purchased a new stake in Timken in the third quarter valued at approximately $225,000. Institutional investors own 78.92% of the company's stock.
COPYRIGHT VIOLATION NOTICE: This piece of content was posted by American Banking News and is the sole property of of American Banking News. If you are viewing this piece of content on another website, it was copied illegally and reposted in violation of U.S. and international trademark & copyright law. The correct version of this piece of content can be accessed at https://www.americanbankingnews.com/2018/01/22/analysts-offer-predictions-for-timken-cos-fy2018-earnings-tkr.html.
Timken Company Profile
The Timken Company engineers, manufactures and markets bearings, transmissions, gearboxes, belts, chain, couplings and related products and offers a spectrum of power system rebuild and repair services across the world. The Company operates through two segments: Mobile Industries and Process Industries.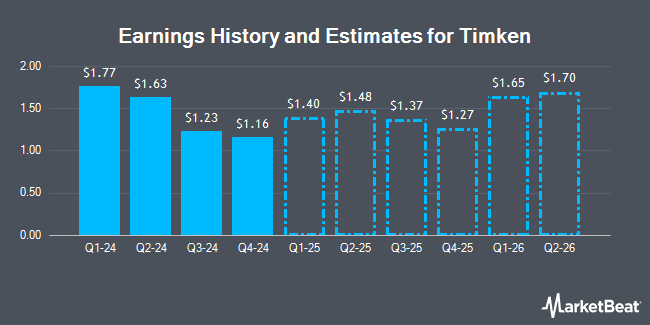 Receive News & Ratings for Timken Daily - Enter your email address below to receive a concise daily summary of the latest news and analysts' ratings for Timken and related companies with MarketBeat.com's FREE daily email newsletter.