CorVel (NASDAQ:CRVL) is set to announce its earnings results before the market opens on Monday, January 29th.
CorVel (NASDAQ:CRVL) last released its quarterly earnings data on Tuesday, October 31st. The business services provider reported $0.44 earnings per share for the quarter. CorVel had a net margin of 6.01% and a return on equity of 22.68%. The business had revenue of $136.43 million for the quarter.
Shares of CorVel (CRVL) opened at $51.30 on Monday. CorVel has a twelve month low of $36.20 and a twelve month high of $61.20. The firm has a market cap of $966.65, a PE ratio of 30.54 and a beta of 0.73.
Separately, BidaskClub cut shares of CorVel from a "strong-buy" rating to a "buy" rating in a report on Friday, December 29th.
In related news, insider Maxim Shishin sold 1,000 shares of the stock in a transaction dated Tuesday, November 7th. The shares were sold at an average price of $57.26, for a total value of $57,260.00. Following the sale, the insider now owns 1,000 shares of the company's stock, valued at approximately $57,260. The transaction was disclosed in a filing with the SEC, which can be accessed through this hyperlink. 50.96% of the stock is owned by company insiders.
TRADEMARK VIOLATION WARNING: "CorVel (CRVL) to Release Quarterly Earnings on Monday" was published by American Banking News and is the property of of American Banking News. If you are accessing this report on another publication, it was illegally copied and reposted in violation of U.S. & international copyright & trademark laws. The original version of this report can be read at https://www.americanbankingnews.com/2018/01/22/corvel-crvl-to-release-quarterly-earnings-on-monday.html.
About CorVel
CorVel Corporation (Corvel) is a provider of workers' compensation solutions for employers, third party administrators, insurance companies and government agencies. The Company offers its services as a bundled solution, which includes claims management, as a standalone service, or as add-on services to existing customers.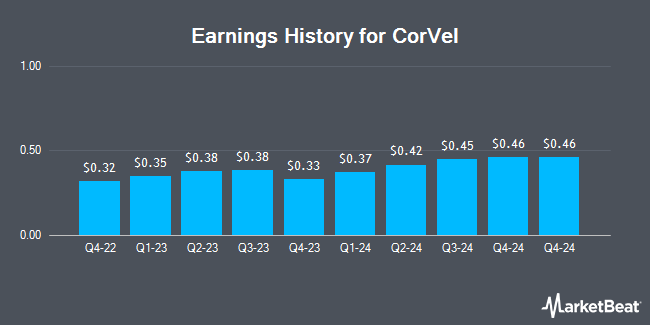 Receive News & Ratings for CorVel Daily - Enter your email address below to receive a concise daily summary of the latest news and analysts' ratings for CorVel and related companies with MarketBeat.com's FREE daily email newsletter.