Fulton Financial (NASDAQ:FULT) posted its earnings results on Monday. The bank reported $0.28 earnings per share for the quarter, meeting the consensus estimate of $0.28, Briefing.com reports. The firm had revenue of $206.37 million during the quarter, compared to analyst estimates of $201.30 million. Fulton Financial had a net margin of 21.15% and a return on equity of 8.28%. The business's quarterly revenue was up 11.6% on a year-over-year basis. During the same period in the previous year, the firm earned $0.24 EPS.
Shares of Fulton Financial (FULT) traded up $0.10 during midday trading on Monday, reaching $18.65. 1,015,373 shares of the company traded hands, compared to its average volume of 941,639. The stock has a market cap of $3,260.00, a price-to-earnings ratio of 18.28 and a beta of 1.17. The company has a debt-to-equity ratio of 0.47, a quick ratio of 0.98 and a current ratio of 0.98. Fulton Financial has a 12 month low of $16.45 and a 12 month high of $19.90.
The business also recently declared a quarterly dividend, which was paid on Tuesday, January 16th. Investors of record on Tuesday, January 2nd were issued a $0.11 dividend. This represents a $0.44 annualized dividend and a yield of 2.36%. The ex-dividend date of this dividend was Friday, December 29th. Fulton Financial's payout ratio is presently 43.14%.
Several equities analysts have recently weighed in on FULT shares. Barclays lifted their target price on shares of Fulton Financial from $18.00 to $19.00 and gave the company an "underweight" rating in a report on Tuesday, January 2nd. Keefe, Bruyette & Woods reaffirmed a "hold" rating and set a $17.00 target price on shares of Fulton Financial in a report on Thursday, October 19th. BidaskClub lowered shares of Fulton Financial from a "sell" rating to a "strong sell" rating in a report on Saturday, January 6th.
Zacks Investment Research
raised shares of Fulton Financial from a "hold" rating to a "buy" rating and set a $20.00 price target for the company in a report on Wednesday, January 3rd. Finally, Piper Jaffray Companies reissued a "hold" rating and issued a $18.00 price target on shares of Fulton Financial in a report on Thursday, October 19th. Two equities research analysts have rated the stock with a sell rating, five have issued a hold rating and two have given a buy rating to the company. Fulton Financial presently has a consensus rating of "Hold" and a consensus price target of $18.80.
ILLEGAL ACTIVITY WARNING: "Fulton Financial (FULT) Posts Quarterly Earnings Results, Hits Estimates" was first published by American Banking News and is the sole property of of American Banking News. If you are viewing this story on another publication, it was copied illegally and reposted in violation of U.S. & international trademark and copyright laws. The legal version of this story can be viewed at https://www.americanbankingnews.com/2018/01/22/fulton-financial-fult-posts-quarterly-earnings-results-hits-estimates.html.
Fulton Financial Company Profile
Fulton Financial Corporation is a financial holding company. The Company is the bank holding company of Fulton Bank N.A. (the Bank). As of December 31, 2016, the Company's six subsidiary banks were located primarily in suburban or semi-rural geographic markets throughout a five-state region (Pennsylvania, Delaware, Maryland, New Jersey and Virginia).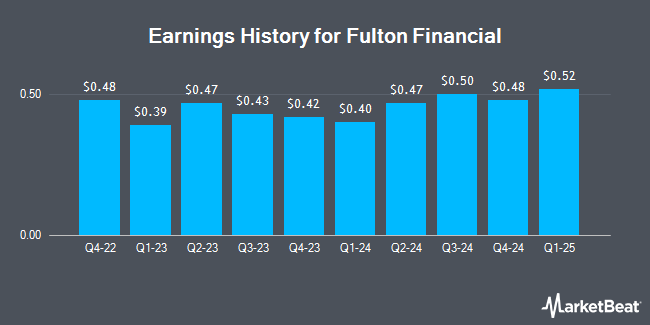 Receive News & Ratings for Fulton Financial Daily - Enter your email address below to receive a concise daily summary of the latest news and analysts' ratings for Fulton Financial and related companies with MarketBeat.com's FREE daily email newsletter.