InterContinental Hotels Group (LON:IHG) had its price target raised by equities research analysts at Liberum Capital from GBX 4,600 ($62.38) to GBX 4,950 ($67.13) in a research note issued on Monday. The firm currently has a "hold" rating on the stock. Liberum Capital's price target would indicate a potential upside of 0.96% from the stock's current price.
Several other equities analysts have also issued reports on the company. Barclays restated an "equal weight" rating and set a GBX 4,000 ($54.24) price target on shares of InterContinental Hotels Group in a research note on Thursday. JPMorgan Chase & Co. boosted their price target on InterContinental Hotels Group from GBX 3,540 ($48.01) to GBX 3,680 ($49.91) and gave the company an "underweight" rating in a research note on Friday, January 12th. Credit Suisse Group boosted their price target on InterContinental Hotels Group from GBX 5,100 ($69.16) to GBX 5,800 ($78.65) and gave the company an "outperform" rating in a research note on Tuesday, January 2nd. Finally, Morgan Stanley upgraded InterContinental Hotels Group to an "equal weight" rating and boosted their price target for the company from GBX 3,700 ($50.18) to GBX 4,200 ($56.96) in a research note on Wednesday, November 29th. Four research analysts have rated the stock with a sell rating, eight have given a hold rating and two have issued a buy rating to the company's stock. The stock currently has a consensus rating of "Hold" and a consensus target price of GBX 4,108.85 ($55.72).
InterContinental Hotels Group (IHG) opened at GBX 4,903 ($66.49) on Monday. InterContinental Hotels Group has a 12 month low of GBX 3,642 ($49.39) and a 12 month high of GBX 4,944 ($67.05). The stock has a market capitalization of $9,390.00 and a PE ratio of 3,045.34.
ILLEGAL ACTIVITY WARNING: This piece of content was first reported by American Banking News and is owned by of American Banking News. If you are reading this piece of content on another domain, it was illegally copied and reposted in violation of United States & international copyright legislation. The correct version of this piece of content can be read at https://www.americanbankingnews.com/2018/01/22/liberum-capital-boosts-intercontinental-hotels-group-ihg-price-target-to-gbx-4950.html.
InterContinental Hotels Group Company Profile
InterContinental Hotels Group PLC is a hotel company. The Company franchises its brands to, and manages hotels on behalf of, third-party hotel owners. Its segments include The Americas; Europe; Asia, Middle East and Africa (AMEA); Greater China, and Central. It operates a portfolio of hotel brands, including InterContinental, HUALUXE, Kimpton, Crowne Plaza, Hotel Indigo, EVEN Hotels, Holiday Inn, Holiday Inn Express, Staybridge Suites Hotels, Holiday Inn Resort, Holiday Inn Club Vacations and Candlewood Suites Hotels.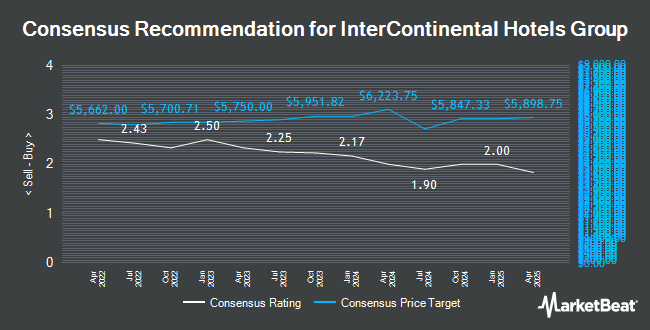 Receive News & Ratings for InterContinental Hotels Group Daily - Enter your email address below to receive a concise daily summary of the latest news and analysts' ratings for InterContinental Hotels Group and related companies with MarketBeat.com's FREE daily email newsletter.